Published 28-04-2020
| Article appears in April 2020 Issue
LOAD UP WITH RHINO-RACK BACKBONE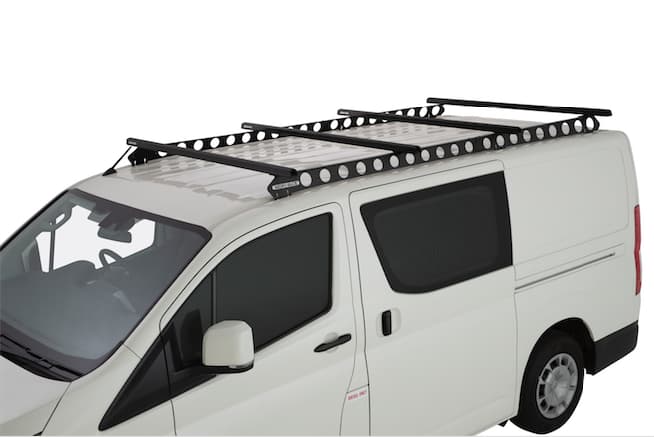 The new Toyota HiAce Gen 6 Backbone from Rhino-Rack allows tradies to transform their home-away-from-home into a tool-shed on wheels. The Gen-6 Backbone is a durable, versatile mounting system that shares the load with ease.
The Backbone connects to your roof via three bases on each side, which distributes the weight of the load evenly to minimise sway. The load limit is 120kg.
Whether you're carrying ladders, pipes or construction equipment, the Rhino-Rack Gen 6 Backbone's four-bar leg system can handle longer gear. The 120kg load limit, and Rhino-Rack's tough-as-nails Heavy Duty bars, ensure you can always have the right tools on hand to get the job done.
Thanks to its quality and non-corrosive stainless steel build, the Backbone won't rust or fade. This ensures unparalleled longevity.
Its two-piece design allows for a quick, easy installation by a single fitter within two hours.
Rhino-Rack began in Australia in 1992 and now sells its quality roofracks in more than 50 countries.
With all that industry experience, Rhino-Rack understands what a good roof rack needs to be: solid, rugged and reliable.
Available now from your local authorised Rhino-Rack dealer, the Toyota HiAce Gen 6 Backbone galvanises your van and transforms it into a mobile toolbox. 
No matter what job lies ahead, jump in your HiAce knowing Rhino-Rack has got your back.