LOAD CELLS PLAY KEY ROLE IN ANALYSIS OF TUMOURS
20-02-2017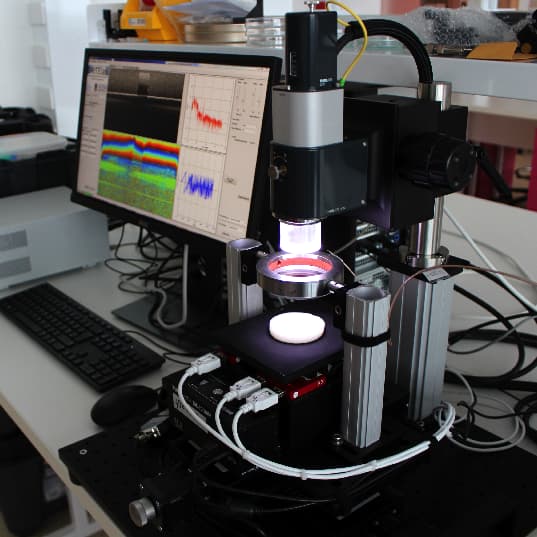 The compression optical coherence elastography test setup
Researchers at the Harry Perkins Institute of Medical Research in the University of Western Australia are working on a novel method of analysing tumours that could reduce the need for multiple surgeries in the treatment of breast cancer. Miniature S-beam load cells from Futek play a key role in the analysis.
Breast-conserving surgery is the most common surgical procedure used in the treatment of early stage breast cancer. The aim of this surgery is to remove all malignant tissue, together with a surrounding 'margin' of healthy tissue.
Any malignant tumours found within the margin are associated with a high rate of reoccurrence of cancer, meaning that subjects may require further surgery, and as many as 30% of patients undergoing breast-conserving surgery do require further surgery.
The Western Australian researchers are using compression optical coherence elastography, which is a high resolution optical imaging technique that probes the mechanical properties of tissue and generates three-dimensional images of tissue elasticity that can help identify regions of malignant tumour.
All biological tissue exhibits a nonlinear stress-strain relationship. The benchtop system uses a motorised lab jack to apply a bulk preload to the breast tissue before elastography is performed. The applied force is monitored as the bulk preload is applied using the miniature S-beam load cells mounted on the lab jack.
The researchers have already published a number of studies on the feasibility of the technique. They are now working on a larger scale clinical study to determine the sensitivity and sensitivity of the technique for clinical assessment of tumour margins.
Futek is represented in Australia and New Zealand by Metromatics. 
 
Metromatics
07 3868 4255
www.metromatics.com.au