LITTLE ROBOT TO DO THE WEEDING? YES PLEASE
22-02-2016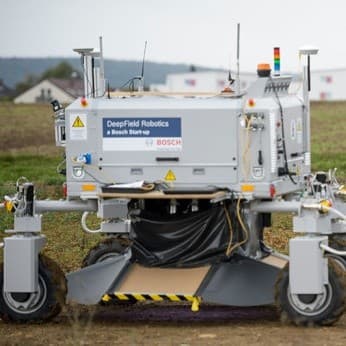 Deepfield Robotics, a Bosch-funded start-up, is the latest company to try out a field vehicle that is able to distinguish between plants and weeds.
The new technology, Bonirob, boasts the ability to better plant breeding and reduce the impact of farming on the environment.
At the size of a small car, the Bonirob essentially analyses everything you need to know about crops it can monitor new crop varieties, tell how well they grow, whether or not they are resistant to pests, and how much fertiliser they need.
The robot is also said to make everyday fieldwork easier.
Bonirob can tell plants and weeds apart by the shape of their leaves and will physically remove the weed rather than using pesticide.
The unwanted plants are usually just smashed back into the ground with a rod. Bosch researchers looked up large amounts of weed imaged so that the little robot can identify them with stunning accuracy.
Professor Amos Albert, general manager of Deepfield Robotics, explains:
"Over time, based on parameters such as leaf colour, shape, and size, Bonirob learns how to differentiate more and more accurately between the plants we want and the plants we don't want."
The Bonirob is the a joint funded project by by Germany's Federal Ministry of Food and Agriculture that saw experts from Bosch, Osnabrück University of Applied Sciences, and Amazone join forces