LITHIUM BATTERIES ARE BORN OUT OF NECESSITY
18-08-2017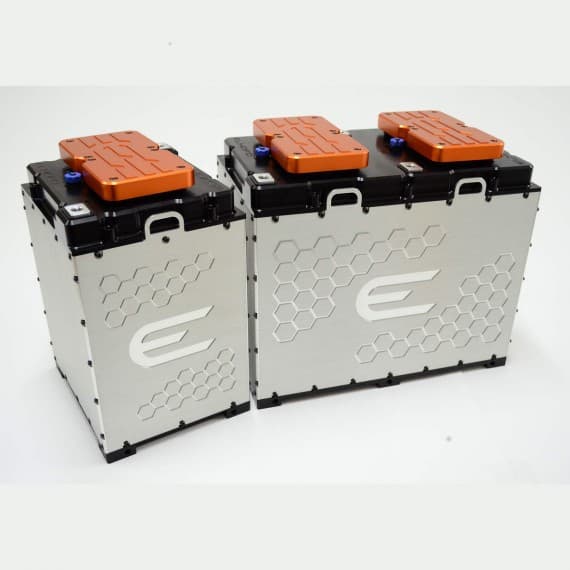 How a project to produce an electric DeLorean led to a NSW company setting up Australia's first lithium battery manufacturing operation.
Brett Sutherland is Managing Director of Solar Power Australia, a successful Newcastle-based designer and installer of domestic and industrial solar power systems. But he is also something of a rev head. So when his company was looking for a suitable promotional "vehicle" to demonstrate the performance capability of electric drive systems, it perhaps was not a surprise that converting a 1980s icon to electric power took his imagination.
The fact that the resulting electric DeLorean DMC-12 had vastly more power than the original V6 petrol engine version may have had a lot to do with the "gutless" nature of the original. But it also set Sutherland on a path that has seen the foundation of a sister company, ELMOFO, which went on to build a high performance Electric Radical Race Vehicle designed to mix it up on the track with the extremely high performance V8 powered Radical SR8s.
It was back in 2011 when he was working on the DeLorean that Sutherland encountered a severe limitation of the technology of the day. So when it became time to build a high performance electric race car, there were no commercially available batteries capable of delivering the current required to allow the car to reach its full performance potential.
So he set about designing one, complete with a specialised battery management system.
The first generation of batteries had an oil-cooled design in order to realise the required power density. But it worked, and gave the ELMOFO electric Radical the speed and acceleration that was required to be competitive with the high performance petrol powered Radical SR8s on a race track.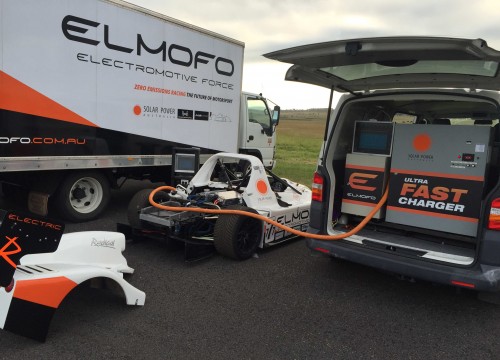 Further development of the battery design and the creation of a dedicated DC fast charging system meant that the Electric Radical Race Vehicle is capable of around 260km/h and can be cooled and recharged within the 1 hour limitations of a race day.
Today, the result is the ELMOFO E-Cell range of energy storage systems, designed and assembled in Australia, and made specifically for Australian conditions.
The current generation of ELMOFO E-Cells use Korean-made Kokam high-power lithium-polymer cells, and offer a range of standard modular sizes, with nominal voltage ratings of 24 and 48V DC, with capacities of 80 or 106Ah and usable energy of up to 4.9kWh.
More importantly, all the E-Cells are rated for more than 4000 cycles and a life expectancy in excess of 10 years. And, they are maintenance friendly: unlike competing mass-produced laser-welded designs, the E-Cells feature a bolted construction, and so can be repaired rather than recycled.
The ELMOFO E-Cells are proving popular – and not just for electric vehicles. Brett Sutherland lists offshore projects in WA, an electric train in northern NSW and electric boats among some of the more varied applications.
The synergy between Sutherland's two companies continues. The E-Cells are increasingly being requested for residential, commercial and industrial energy storage systems through Solar Power Australia. And even the NSW train project involves a solar-powered charger to replenish the E-Cells between trips.
There is, however, one major factor limiting the market for the ELMOFO E-Cell. They cannot be shipped by air.
The problem is that lithium batteries are considered to be dangerous goods (a status not helped by recent instances of fires and explosions caused by poorly manufactured products). As such they are bound by United Nations "Recommendations on the transport of dangerous goods", or UN38.3, which defines a standard that must be met before the airline association IATA will transport the goods.
While the Kokam lithium cells are certified to UN38.3, the ELMOFO E-Cells are not. And what makes this worse is that there is no laboratory in Australia that is qualified to test to the requirements of UN38.3.
Therefore, to get the E-Cells qualified, they would have to be shipped overseas to a qualified laboratory. But they couldn't be shipped by air: all of which is rather frustrating for Sutherland, who points to CSIRO as one body in Australia that is slowly getting into battery testing. "However, they aren't looking at UN38.3 yet," he says.
It seems ironic that a nation that is the world's leading producer of lithium, and now has an embryonic lithium battery manufacturing operation does not have the business infrastructure to help this enterprise to grow.
ELMOFO - ElectroMotive Force
02 4954 3310
www.elmofo.com.au