LINING PLASTICS HELP MATERIALS HANDLING GO WITH THE FLOW
07-05-2018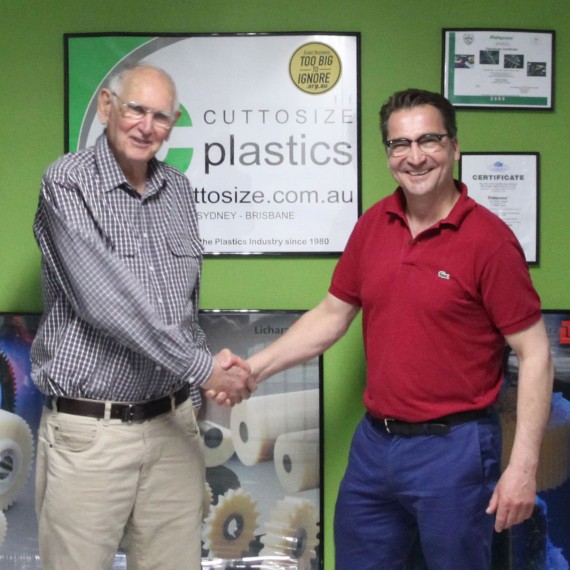 Cut To Size MD Laurie Green (left) with Wefapress MD Gerrit Beck
Cut To Size Plastics has a new range of lining plastics for bulk materials handling applications such as food and beverage processing, truck liners, bucket wheel excavators, rail cars, wheel loaders, belt scrapers, silos, and trough chain conveyors.
The new range of Flex Cover ultra-high-molecular-weight polyethylene (UHMWPE) engineered plastics from Wefapress has a number of properties that prevent friction, wear and material flow problems common to bulk handling industries.
Wefapress Managing Director Gerrit Beck and Senior Sales Manager Klaus Massfeller visited Cut To Size's Yennora facility recently to provide expert product training on the latest evolution of the globally proven Flex Cover range.
"The product training done with Cut To Size is our first presentation globally on our new range, and with an exceptional relationship extending over more than 20 years, we believe this was an ideal place to start," said Beck.
"There is strong interest in the Australian market for innovative lining solutions, which has been Wefapress' strength for 50 years. We recognise that Laurie and his team operate with a results-focused approach that fosters customer satisfaction, and we are proud to have Cut To Size as our Australian distributor," he said.
Cut To Size is stocking several Wefapress ranges locally, including UHMWPE used in applications as diverse as food and beverage, wharf bumpers and other applications requiring abrasion and wear resistance.
Cut To Size Managing Director Laurie Green was delighted to extend such a long-term relationship and looks forward to the benefits the new range can bring to his Australian customers.
"The wear resistance, impact strength and sliding properties of the Flex Cover range are outstanding. For companies experiencing material flow issues that are causing significant downtime and cost, these engineered plastics are a cost-effective and innovative solution with proven results," he said.
The Flex Cover range stocked by Cut To Size comprises various different types of UHMWPE with high wear resistance and a range of different properties in terms of friction, temperature tolerance and flexibility.
Specific products of note include: Flex Protect, a lining with a rubber backing that is glued on to materials, not bolted mechanically; and Flex Wear, a novel two-colour solution that gives a visual indication of wear as the top colour wears away.
Cut To Size Plastics
02 9681 0400
www.cuttosize.com.au