Linde's Bluespot: Putting the Spotlight on Workplace Safety
28-04-2014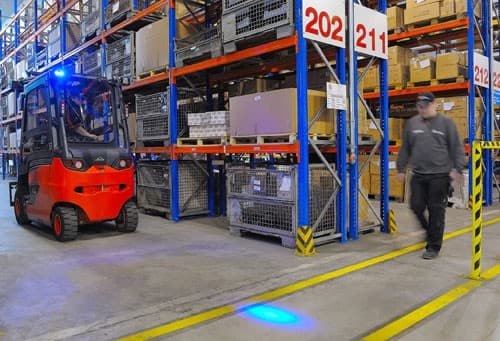 Linde's BlueSpot solution for pedestrian and vehicle workplace safety is a classic example of how simple solutions can often be the best.
The high-intensity, low-consumption BlueSpot LED light warning system has become a sought-after retrofit solution for counterbalance and warehouse trucks since its launch in 2011.
In fact, so many customers have seen the brilliance of BlueSpot that Linde now offers two versions for pedestrian and vehicle workplace safety on driving paths and at junctions where visibility is poor.
BlueSpot consists of just two energy-efficient LED lights attached to the top of the driver's protective roof frame.
The lights project a large, bright blue spot onto the floor several metres ahead of the vehicle in the direction of travel.
Their LED technology is not susceptible to shocks or vibrations, and enables a long service life for the lights, which are also dustproof and waterproof.
A BlueSpot "directional" variant which projects a blue arrow onto the floor, indicating the drive direction of the approaching truck, is also available.
To ensure the safest possible work environment, both BlueSpot alternatives can be fitted to narrow aisle trucks and reach trucks as well as counterbalance forklifts.
No additional infrastructure is required, so the need to install sensors, dedicated cabling or lights and the complications of retro-fitting in existing facilities are all avoided.
The effectiveness of the Linde BlueSpot system has been demonstrated at workplaces around the world for more than two years now.
Forklift drivers often find the shrill tones of acoustic warning devices so disruptive that they switch them off and thus prevent them from fulfilling their function.
"The BlueSpot device doesn't cause that issue," Linde Material Handling managing director Carl Smith said.
"Instead it provides a highly visible driving path warning device, which is more directional than flashing beacons because it is not reflected off all nearby surfaces.
"Pedestrians or other forklift operators can quickly identify the direction of approaching vehicles, ensuring safety in aisles as well as in unclear cross-over areas. Drivers as well as other warehouse employees highly appreciate this solution."
The Linde BlueSpot system's very bright and long-lasting LED lights can be lit up constantly or can be set to flash in order to attract attention.
That makes it ideal for use around doors, exits, crossings and blind corners where forklifts, warehouse trucks and pedestrians share common work spaces in storage, incoming goods, dispatch or manufacturing areas.
Linde Material Handling Pty Ltd
Ph: 1300 454 633
www.lindemh.com.au