Lightweight system for heavy loads
24-10-2013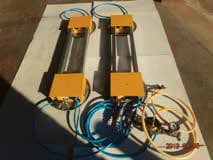 The Sippel Group now offers a range of lightweight AIRSKATE systems capable of lifting and moving up to six tonne maximum capacity.
Lightweight Construction LA Series AIRSKATE Systems come complete with an umbilical Hand Held Deadman Control, making heavy lifting a breeze.
The system features sliding bars to keep AIRSKATE Modules controlled and in the same plane parallel with the floor surface.
The systems are most effective for movement on horizontal, level floors.
But if required, all systems can negotiate most ramps with adequate restraint allied with push-power.In most cases this lightweight system can safely move up to six tonne loads with no damage to floors, buildings or the equipment moved.
The system shown (with four modules) was recently supplied to Alstom Grid, a global leader in power transmission and smart grid technology. The company used the system for its L&P Gorgon Project, which required the installation of several transformers and switchboards.
According to the company the initial move was highly successful and the system will be used over a three-month period.
The system used can be lifted by hand and can be used on most surfaces. If necessary surfaces.