| Article appears in February 2020 Issue
LIGHTWEIGHT CYLINDERS MAXIMISE MOBILITY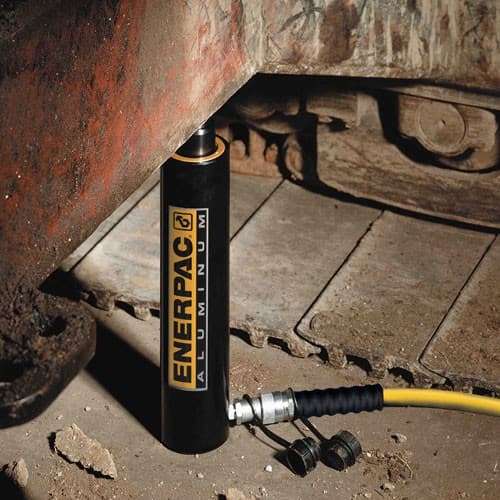 Enerpac has expanded its RAC-Series of lightweight aluminium cylinders with new 10 and 15t models for smaller lifts requiring a high degree of portability.
The cylinders, with strokes from 50-250mm, weigh from just 1.3-2.0kg for the new 10t models and 1.9-2.9kg for the 15t models, through to a maximum of 41.3kg for the top-of-the-range 150t cylinders.
"The new 10t and 15t models, which further extend the range, are particularly useful for maintenance tasks, and in situations where they need to be moved from job to job," says Enerpac Asia-Pacific Marketing Manager, Tony Cooper.
The RAC-Series has been proven globally for years on lifts between 20 and 150t, where it provides the same lifting performance and safety in half the weight of equivalent steel hydraulic cylinders.
Frequently used in workshops, fabrication and manufacturing applications, Enerpac's range of RAC single-acting spring-return aluminium cylinders are one of the most widely used ranges in Australasia.
"Cylinders often need to be carried for field maintenance, elevated platform work, up stairs or across processing plants. The light weight and outstanding portability of the RAC-Series cylinders are highly valuable in these situations, especially on remote sites, where they may need to be carried in by air or 4WD," says Cooper.
The aluminium versions are also perfect for mounting on machines or applications where the weight of the hydraulic components is important. Because of their weight, aluminium hydraulic components are easier to move or remove for maintenance and repair. Their nonmagnetic properties can also be useful in uses around high technology equipment and magnetically or electronically sensitive instruments and applications in resources, processing and exploration.
"Additionally, because it is noncorrosive by design, aluminium has always been a good material for use in many caustic environments, including those encountered in the production of food, electricity, manufactured goods and resources," adds Cooper.
RAC-Series cylinders incorporate composite bearings on all moving surfaces to prevent metal-to-metal contact, resist side loads and extend cylinder life.
As an ideal complement to the RAC-Series cylinders, Enerpac's P-392 and P-802 lightweight hand pumps are constructed of composite materials including aluminium to create an optimal lightweight pump and cylinder set. The cylinders can also be powered by Enerpac's fast-acting electric, air and petrol pumps.
Enerpac
02 8717 7200
www.enerpac.com