Light Up Your Life With Cetus
31-08-2010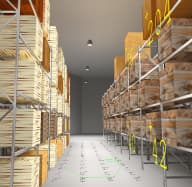 How can a 135 watt light produce greater lux levels in the workplace than a 400 watt light?
The answer is in the targeted light delivery via integrated optical lenses. The modelling output images tell the story.
Cetus manufacturer Enlighten Australia commissioned an independent lighting designer to model a comparison of light outputs between the 3 module Cetus LED light with a lensing configuration of 60/120/60 degrees and generic 400w metal halide and mercury vapour high bay lights in typical warehouse racking configurations.
The elevation view image (below) shows on the left an average illumination level of 144 lux at floor level for the Cetus light from an 8m ceiling height at 8m spacing, compared with an average of 142 lux from a good quality generic 400W metal halide light on the right. Illumination on the vertical surfaces is spread more evenly on the left Cetus image, as indicated by the yellow lux markings on the pallets.
For the Cetus, the range is 77 at base and 92 on the top rack, as opposed to a more uneven distribution for the metal halide of 71 to 294 lux.
The comparison with 400W mercury vapour lighting is more stark, with only 85 lux average at the floor level, and a wider variation of light spread on the vertical surface of 42 on bottom & 204 lux on top racks. (pictured)
"We are delighted with these results, as we have designed the Cetus light with tailored functionality and these lighting design models support our success in delivering a more targeted light output," said David Bird, sales executive, Enighten Australia.
For a lighting-designer, the advantage of using the Cetus is the flexibility of its modular design. Using the individual module IES files instead of the whole luminaire, is like having multiple fixtures to "shape" the light with, rather than only one.
Customer benefits include up to 70 percent energy savings and better light security.
In the event of light driver failure, the modular Cetus design ensures better chances of partial light being delivered rather than total failure scenarios of single driver luminaires.
"The spread of light from the Cetus enables the packaging labels and documentation to be read consistently from the bottom to the top racks up to a mounting height of 8 m, with reduced effect of glare and shadowing, said Mr Bird. "Another customer benefit is that the product bar code laser scanner can better distinguish between the black and white of the bar code and QR code configurations due to the more even distribution of light."
Since its release in April, the Cetus light has been installed in factory floor, bulk storage, warehouse and loading dock applications across food & beverage manufacturing, plastics and printing industries in NSW, with a number of projects in the pipeline.
"The customer response has been very positive," said Mr Bird.
Average lighting retrofit energy savings results are over 60 percent with project return on investment figures of under three years.