A light bulb that lasts for 20 years: I'd like to see that
31-08-2010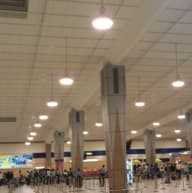 How would you like to not have to change your lights for 20 years?
This is now possible with the latest induction lamps that can deliver a proven 100,000-hour life span. While LED lighting saves energy in the short term, induction lamps can provide savings for more than 15 years.
Induction lighting can also be more cost effective to buy than LED technology. Induction lighting is a proven product with genuine 100,000- hour lamps now available to the Australian industrial sector.
Maintenance free induction lamps are used widely in the Northern Hemisphere and are now available in Australia, giving unsurpassed savings in energy and maintenance.
Induction lighting is the most efficient lighting available – up to 2.4 x more efficient than LED. Also, induction lighting provides more visible light and a more even lighting pattern.
There is no glare factor, which can be damaging to human eyes (retina) with prolonged exposure.
And there is minimal lumen depreciation (5% at 30,000 hours) with induction lighting.
Induction lighting is also available with full dimming facilities via a small and inexpensive dimming controller.
Ideal for industry, 20W induction tubes are available in any colour. These draw only 0.1A/hr and are available in 300mm, 600mm, 1200mm and 1500mm lengths, offering superior lumen output.
In industrial and commercial facilities, induction lighting gives a soft, even light, which is very close to natural light.
There is very little heat generation (90C), compared with metal halides that generate up to 330C . This provides a cooler working environment.
Induction lighting is a robust, economical, maintenance free long-term investment for any business. It gives many years of energy savings, and provides pleasant, even lighting, unmatched by other lighting technology.
Induction Lighting Imports offers a full range of lighting- high bay, low bay, recessed, street lighting, flood lighting, tubes and even retro fit kits for existing lighting upgrades.
Induction retro-fit kits can be installed into existing lighting fixtures, converting them to energy saving fittings more economically.