Published 01-09-2020
| Article appears in August 2020 Issue
LIFTING INDUSTRY CAPABILITY INTO SPACE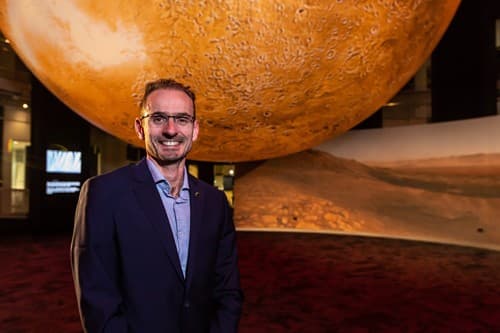 If the COVID-19 pandemic has taught us anything, it's that Australia has a truly diverse, ingenious and resilient industry base.
Manufacturers in particular have responded to the challenges of the pandemic by ramping up production to meet unprecedented demands on supply and overhauling traditional practices and processes to charter new manufacturing territory.
While the Australian Space Agency wasn't on the frontline in the early stages of the pandemic, we knew space could play an important role in Australia's economic recovery. Space technologies have widespread application in our everyday lives, such as keeping people connected remotely and ensuring shipping and air freight navigate to the correct location safely.
With this in mind, there is some truly exciting work happening across the country which highlights how space can enable the diversification of skills, collaboration within industry and research sectors, and advance industry growth across the value chain.
Take for example the first round of projects supported through the Australian Government's International Space Initiative (ISI) fund. The objective of this program is to build the capacity of local space businesses and demonstrate the sector's ability to deliver products and services internationally.
The initiative forms a key element of the Australian Civil Space Strategy and aligns with the National Civil Space Priorities, building on our strengths in areas of competitive advantage.
In one of the ten successful projects, the University of Melbourne is working with the Italian Space Agency, UK Space Agency and local space businesses Inovor and Neumann Space to develop an Australian-made spacecraft which will be the first of its kind to host a foreign space agency payload.
Importantly, the SpIRIT (Space Industry Responsive Intelligent Thermal) CubeSat mission will show our competitiveness in nano-satellite R&D and advanced manufacturing and support Australian products to enter the global supply chain for low earth orbit satellites and constellations.
The SpIRIT project shows Australia is well on the way to having the required capabilities to support this growing international market, with these platforms having the potential to support national issues such as bushfires and drought.
Human Aerospace leads another successful ISI project that is bringing together space and the life sciences. Working with RMIT University and Cape Bionics, Human Aerospace is developing the next generation of spacesuits to position Australia among global leaders in compression spacesuit technology.
Their IVA Skinsuit simulates gravity loading, tricking the body into believing it is standing on Earth which helps astronauts maintain peak physical condition in space. The tech is so good that the Skinsuit has already been deployed twice on the International Space Station.
Collaborating with the likes of NASA, the European Space Agency and Massachusetts Institute of Technology, Human Aerospace is now exploring the potential for this technology to deliver future sportswear to help athletes recover. This is just another example of space technology helping life on Earth and in space.
COVID-19 has brought issues such as national capability and competitive advantage to the forefront of the national conversation. As Australia looks at economic recovery, our space industry can be an enabler of other vital national industries.
Indeed, the space sector presents an opportunity for traditional industries to consider new ventures by building on longstanding strengths, such as using capabilities applies to the resources sector in automation and remote asset management to the extreme environments in space.
As the industry grows and transforms, space is fast becoming an engine for innovation.
Our ingenuity will further position Australia as having world leading space capabilities that advance inspirational space exploration endeavours like NASA's Artemis program and most importantly, make life on Earth easier and safer.