Liftco: a trusted name in lifting
31-08-2010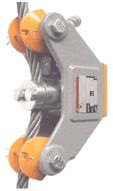 Easy to install … Load Limiter from Liftco
Liftco is a specialist importer and distributor of cost effective, simple and reliable safety equipment for overhead cranes and hoists throughout Australia.
Their Load Limiter is an easy to install device that protects against overloading a crane and supporting structures. This product is available for all capacity cranes.
There are also specialised limiters that are available for heavy-duty applications.
The Load Limiter is available preset, or it can easily be calibrated on site. 
The Liftco Load Limiter can automatically reset by reducing the load.
Because of its capabilities, the Load Limiter helps to prevent accidents, ensuring safer working conditions.
Liftco products suit most types of applications for rope and chain, crane and hoists.
Liftco Industrial Supplies Pty Ltd
Ph: 02 9829 4411