Published 16-07-2020
| Article appears in August 2020 Issue
LIFT SKILLS AND LOWER COSTS WITH YALE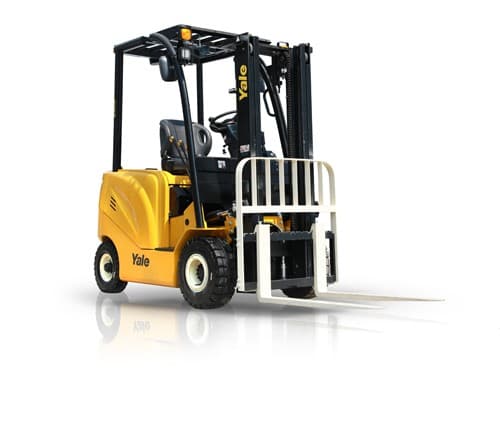 Yale's versatile UX 4-wheel electric lift truck range raises global standards of driver focus while lowering ownership cost.
Yale, a global leader in forklift design innovation and warehouse logistics, has released its new UX series throughout the Asia-Pacific region. The range, which includes six vehicles between one to 3.5 tonnes, is ideal for less frequent usage and features outstanding service backup.
The 4-wheel electric UX models complement the broader UX series range.
"The new range combines robust quality and strong service backing to cost-effectively tackle simple everyday materials handling needs, bringing the performance of electric forklifts to a broader market sector seeking optimum cost-efficiency for their needs," says Yale's Pacific area business director Mark Chaffey.
The Yale UX series' safety-oriented design and agile performance make the new lift trucks easy to use in restrictive spaces for businesses of all sizes. Agribusiness, food and beverage, refrigeration and warehouse, transport and logistics, manufacturing, primary processing and packaging are just some of the sectors that can benefit from the UX's features.
"Through the use of high-quality components and advanced ergonomic technology, the Yale UX series provides the driver with superb control while delivering reliable operation and lower wear and tear," Chaffey says.
"Coupled with fast availability of genuine and cost-effective replacement parts, Yale's 'People, Products, Productivity' market advantage is what helps reduce maintenance costs and downtime."
Design of the Yale UX series was done with the driver in mind. Comfort is the main feature of the operator compartment, which has been configured to enable drivers to work effortlessly and allows for easy accessibility and controllability.
The small steering wheel, which features eight degrees of adjustment and low steering effort for operation in confined spaces, provides fine control, while a range of standard and optioned features further boost the versatility of the truck.
Yale is diversifying its product offerings to meet a strong demand for bespoke solutions within the Asia-Pacific market. A dealer network of more than 150 specialised outlets, supplied by 12 global plants accounts for Yale's strong presence in the region.
"Not all users need to pay for the features required for 24-hour performance," Chaffey says.
"We believe that, in addition to our unwavering commitment to quality demonstrated over 137 years, the services around the truck are highly important to users, including parts, maintenance and fleet management designed to maximise uptime and minimise ownership issues."
High quality cylinders with hard chrome rods reduce seal wear for a longer life. The full-flow, low pressure filter on the return helps keep the hydraulic oil clean.
This in turn can minimise the overall seal and pump wear, keep the control valve in good condition, and thereby lead to lower service costs.
Other features of the UX series include high-strength, profiled-steel overhead guard for added protection, low step height for easy access and a wide view mast to enhance operators' forward view field.
LED lighting comes standard in every UX model, while a full suspension seat helps to reduce driver fatigue.
A simple and clear display panel shows speed, power, error codes and working hours to keep operators fully informed.
For more information about Hyster-Yale Asia-Pacific, contact Tony Kim at their Sydney office.
Hyster-Yale Asia-Pacific
02 9795 3842
www.hyster-yale.com