| Article appears in October 2021 Issue
Lift and Tip with Simpro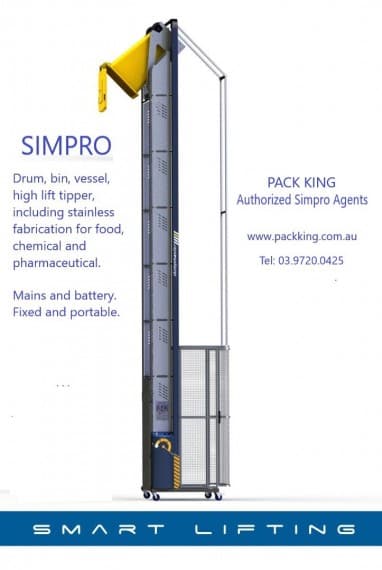 When Armstrong Flooring, the manufacturers of high-quality commercial vinyl floor and wall coverings, needed to upgrade their manufacturing plant in Braeside, one of the essential components to replace – after 15 years of faithful service – was the 200 Ltr Simpro drum lifter/ tipper.
Maintenance Manager Anthony Matulis was tasked with determining the best options, refurbish or replace. After much consideration it was decided that for peace of mind and another trouble free 15 years of service, a replacement Simpro drum lifter/tipper was the best choice.
Pack King, the Simpro Distributor for special project lifters in Australia, brokered the deal.
Spokesperson Ron Mileham tells the story. "When you look at the options for 200 Ltr steel drum lifter/tippers in Australia, there is really only one choice, and that is to go with Simpro New Zealand. They have provided companies in New Zealand and Australia with drum lifter/tippers since 1986, and they have the expertise to reach the heights that very few others are able to. They are also able to customize to exactly suit their customer's needs, so if you want to lift and tip a drum, bin or a specially fabricated vessel, then Simpro can do it. Even high speed/volume, lifter - tippers, that negate the necessity to build a mezzanine to feed your hoppers can be a worthwhile consideration in today's tight environment.
Armstrong's requirements included a separate power pack - to fit the available space, a higher flow pump, auto tipping cycle, modified door, customised drum cradle and chute and abnormal drum tipping angle.
There was a tendency to buy cheap, but due to world events creating a perfect storm, many purchasers are considering availability, longevity and quality, more than price alone, which is why Pack King chooses to only represent high quality suppliers such as Simpro NZ.