LIFESTYLE MEDICINE PROVIDES A PRESCRIPTION FOR WELLBEING
28-11-2017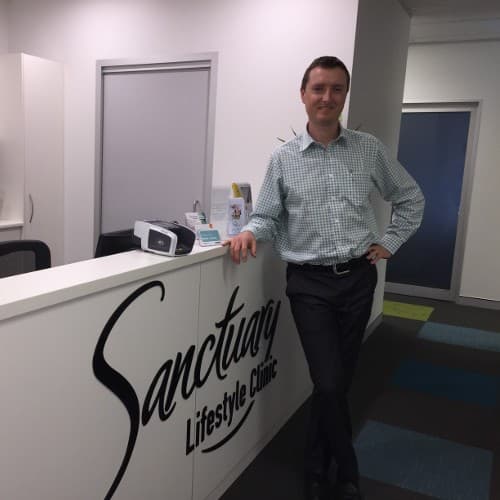 There is a growing movement that offers a different approach to the management of chronic diseases. Lifestyle Medicine aims to equip sufferers with the knowledge and ability to avoid lifestyle choices that can be detrimental to health.
One practitioner is GP Dr Andrew Pennington, who runs the Sanctuary Lifestyle Clinic at Waitara in Sydney's Upper North Shore. He describes the approach as "the application of lifestyle principles to prevent, arrest and reverse, where possible, disease processes".
And those principles? Dr Pennington is in agreement with the US pioneer of Lifestyle Medicine, David Katz, who refers to "feet, forks and fingers" as the three key words for a proper lifestyle – referring to feet (with which we move), forks (with which we eat) and fingers (which we shouldn't use to hold cigarettes).
Dr Pennington contends that "the majority of chronic illness is preventable… it's down to lifestyle choices." And while he agrees that all Australian GPs acknowledge the role of lifestyle in chronic conditions such as coronary heart disease, type 2 diabetes and the like, he fears that the majority of the medical profession have given up on trying to convince their patients of the benefits of making the right choices.
"It's much easier to keep prescribing the medications," he says.
"But when you understand that you can treat chronic disease with lifestyle medicine - generally with only positive side effects - then this becomes more than conventional wisdom. It is clearly a superior therapy."
Lifestyle medicine adopts a holistic approach, combining both physical and mental aspects, while acknowledging that the two are inextricably linked. Practitioners cite a growing body of clinical evidence supporting the beneficial effects of exercise in treating anxiety, and the physical and mental benefits of the so-called Mediterranean diet.
The lifestyle approach is particularly pertinent when dealing with chronic pain management.
"We've created a beast," says Dr Pennington. "Opiates simply do not work for chronic non-cancer pain. They are designed to relieve acute pain."
"People get to a point where the original pain has long gone. But the opiate is still providing a psychological benefit by triggering endorphin release, and so becomes a way out of the pains of life," he contends.
The lifestyle approach, on the other hand, is holistic, and tailored to each individual case.
Common strands include: a diet high in anti-inflammatory agents such as magnesium, Omega 3s and turmeric; exercise therapy to treat anxiety; and cognitive behavioural therapy to address psychological issues that may underlie the problem.
With combinations of these measures, together with other therapies targeted to each specific case, Dr Pennington contends that chronic pain, like chronic disease, can be successfully treated without recourse to prescription medication.
Sanctuary Lifestyle Clinic
1300 723 070
www.sanctuaryclinic.com.au