LIEBHERR OPTS FOR ENERGY EFFICIENT KAESER COMPRESSED AIR SOLUTION
12-08-2015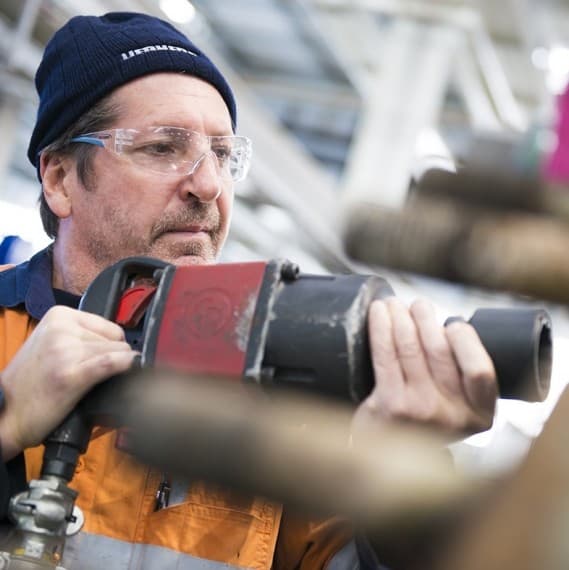 In building its new re-manufacturing facility in Adelaide, Liebherr-Australia chose Kaeser equipment to deliver an energy efficient supply of compressed air on demand. 
Since 2004 Liebherr has re-manufactured used components from its own construction, handling, maritime and mining equipment.
Built to the same quality standards as original new parts, the Reman Program allows Liebherr to deliver high quality components whilst saving energy and material.
In 2012 Liebherr-Australia began building a re-manufacturing and warehousing facility at its Adelaide head office complex.
With a number of Liebherr sites worldwide already satisfactorily using Kaeser compressors, Stefan Stübiger, Industrial Engineering Project Manager at Liebherr-Australia, called upon local Kaeser distributor Mobile Compressed Air to design and supply the compressed air system for the new warehouse.
This complete Greenfield site required large quantities of compressed air at varying locations across the extensive factory floor.
From the dismantling area to the reassembly area, compressed air would be required, to power large torque and rattle guns, grit blasting as well as the painting booth.
It was anticipated that the demand for compressed air would vary significantly throughout the working day.
Liebherr-Australia therefore required a system that could rapidly scale up or down to match demand in the most energy-efficient manner.
To meet these requirements, Mobile Compressed Air recommended installing a CSD 125 series rotary screw compressor, a CSD 105 SFC series frequency controlled rotary screw compressor, a BSD 83 series rotary screw compressor and a Kaeser Sigma Air Manager Master Controller.
Manufactured in Germany to exacting quality standards, the Kaeser CSD series of rotary screw compressors provide the user with significant energy savings.
Every CSD rotary screw compressor incorporates a premium quality screw compressor block equipped with Kaeser flow optimised Sigma Profile rotors.
Developed by Kaeser and continually enhanced ever since, the Kaeser Sigma Profile can deliver power savings of up to 15 percent compared with conventional screw compressor block rotor profiles.
All Kaeser rotary screw compressor blocks feature this energy-saving rotor profile and are designed to ensure maximum energy efficiency.
Also, the CSD 105 SFC rotary screw compressor includes sigma frequency control.
Kaeser SFC compressors are able to directly match the required air demand by continuously adjusting the compressor block speed within the given control range.
The result is significant reductions in energy consumption.
The inclusion of a Sigma Air Manager (SAM) station controller would further allow Liebherr-Australia to enjoy considerable savings.
Able to control up to 16 compressors, the SAM controller precisely adjusts the loading and operation of all compressors within the system to achieve optimum station energy efficiency, whilst its patented 3-D control allows a significant reduction in air network system pressure resulting in further savings.
The Kaeser equipment was subsequently installed along with large compressed air distribution manifolds.
Designed and manufactured by Mobile Compressed Air, these manifolds provided Liebherr-Australia with the compressed air equivalent of a power board.
With seven outlets installed at different points throughout the facility, compressed air would be highly accessible when and where required.
The project was completed in December last year.
Mr Stübiger said: "The compressed air system is providing us with a reliable source of energy efficient compressed air and we have since chosen to install Kaeser compressors in four further nationwide warehouses.'
Since installation, Liebherr-Australia continues to rely on Mobile Compressed Air for its on-going compressor and maintenance requirements.
The CSD / CSDX (SFC) rotary screw compressors from Kaeser are available with drive powers up to 90 kW, working pressure 7.5, 10 or 13 bar and with free air deliveries from 1.07 up to 16.16 m³/min.
Kaeser Compressors
Ph: 1800 640 611