Materials Handling & Equipment
LI-ION KING: BUSINESS LEADERSHIP EVOLUTION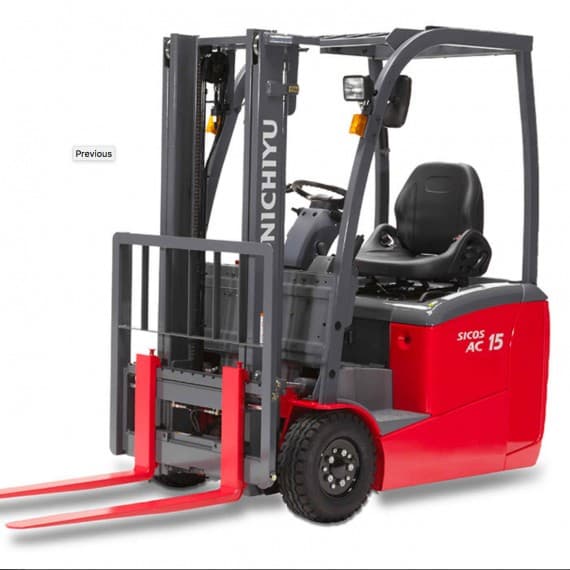 According to ISS ProRack, a privately owned Australian electric forklift specialist, the inevitable dominance of lithium-ion battery power across all industrial trucks is a sign of progressive business leadership rather than a short tremor of a revolution.
"When Tesla's Elon Musk offers via Twitter to solve South Australia's power crisis with a lithium battery power wall, as in "100 days installed or it's free", and gets Aussie tech billionaire Mike Cannon-Brookes on board, we know that heavy duty lithium-ion energy is a serious business development heading for mainstream," says Robert Boustead, General Manager Operations at ISS ProRack.
Now is the time to seriously consider what's in it for your business. And, more importantly, what is the risk of not going lithium in your warehouse operation.
ISS ProRack distributes the Nichiyu electric forklift brand in Australia, and has already beefed up its range with lithium-ion trucks from Nichiyu and Noblelift across the most essential models from powered pallet trucks, stackers and walkie reach trucks, to the ubiquitous counterbalance forklifts. This is driven by strong interest from the company's customer base in the food, pharmaceutical and personal care industries.
So, why the rush?
When it is possible to achieve forklift availability, uninterrupted, for up to 24 hours, seven days a week, without requiring a battery change, it quickly starts to make economic sense. Lithium-ion forklift users benefit in economic and ecological terms from fast recharging times, zero maintenance and an up to five time longer battery life. Importantly, Li-ion forklifts provide a cleaner and safer environment for people and products. Less recharging translates directly into energy cost savings and a small ecological footprint.
"Green is the new black. And, solid black looks extremely good on the triple bottom line (3BL). Lithium-ion technology delivers this now in forklift market," says Robert Boustead. "Looking beyond the operational benefits lithium-ion technology already delivers, as leaders we need to remember that in the age of social media, what's good for the society and the environment, directly links to profits."
The li-ion triple bottom line
The still-higher acquisition cost argument is quickly dismissed by progressive CFOs when the ROI is viewed as lifetime cost of ownership. This is because the benefits of lithium-ion technology positively impact on all areas of business: from drivers' and other employees work safety, the COO's operational cost focus, the CMO's obsession with product marketability, to the boardroom's focus on long-term performance and corporate social responsibility reputation.
"In business, it's always the focus on the customer and the economics driving the decisions. When we start thinking about total lifetime cost of ownership, in deciding between lead-acid and lithium-ion, the choice is a no brainer," says Robert Boustead. "Cleaner, safer for people and products, cheaper to run for longer… Of course, our customers want to see the savings "now". And, we can clearly deliver this with our Noblelift li-ion forklifts."
The good news is that the acquisition cost of li-ion battery-powered industrial trucks has already fallen by around 50% since 2011. Some equipment is already on par or below. For instance the 1.4T lithium-ion Noblelift Walkie reach stacker from ISS ProRack sells for about 11% less than an equivalent lead-acid model from a major brand. The cost is clearly associated with the agility and single focus of this manufacturer on lithium technology.
No need to change the battery means no downtime and no need to buy a spare battery, battery changing equipment or special charging stations. It also means no risk of workplace injuries during battery changes and no need for costly acid-protection areas.
Zero battery maintenance eliminates the cost of downtime, reducing overall cost of forklift maintenance.
No fumes and no dangerous acid spills associated with wet batteries makes lithium-ion forklifts ideal for operations in confined spaces, but especially in the food and pharmaceutical industries, even in temperatures ranging from -20 to +55°C.
ISS ProRack now offers a solid range of Noblelift and Nichiyu Lithium-ion forklifts and plans to expand it as technology sweeps across the industrial truck market. The company sees this emerging ultra-clean technology as an extra advantage for Australian food and wellbeing products in their competitive war for markets in China and Europe.
ISS ProRack
134 234
www.nichiyu.net.au