Leussink on a roll with new 'mobile' solution
31-08-2010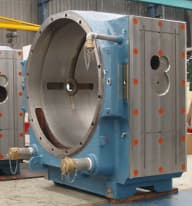 The partnership forged between Australian engineering company Leussink and German precision flat bearings supplier Corts Engineering has gone from strength to strength.
With demand for Corts-Leussink amalgamated capabilities coming from various parts of the world to refurbish old rolling mill roughing stands, Leussink has facilitated a clever mobile solution to access the global potential.
As a result, the new partnership is likely to open new export channels for Australian supply chains.
The strong global demand, especially from emerging economies in Europe, for upgrading old rolling mills (ferrous and non-ferrous) is no surprise, says Leussink Director Mr Jason Leussink.
"Countries in central Europe and other parts of the former communist bloc have seen their rolling mills age, he says. "Now there is strong demand for our the unique refurbishment skills of our alliance with Corts as this will give them speed and savings in capital expenditure."
The new Corts-Leussink partnership has taken a 'mobile' approach to the roughing and finishing stands refurbishing work.
"To maintain quality and work integrity, we take our own milling machine from our Wollongong (NSW) base and contract this equipment into a shipping container for use all around the world, says Mr Leussink.
"Therefore, we have pretty much invented a mobile machining and milling solution which works in sync with the Corts bearing technology and associated knowledge.
"We take absolutely everything we can from Australia, from software and other IT needs, laser measuring and tracking equipment all the way down to gears, nuts and bolts and other items normally viewed as standard.
"This is an expensive procedure but we are never sure where our next job will be and if we arrive in a region that is not as developed as what we are accustomed to, we are never sure what sort of supply chain they might have.
"So we source as much as possible from Australia and ship it to site. Once the project is over, we either dismantle the mobile system and bring it back home or move it directly to the next job wherever in the world it may be."
Through the mobile capability, Corts-Leussink can make a complete refurbishment to the world's oldest rolling mills to original specification and extend their lifespan.
This process combines the expertise of Corts-Leussink, surveyors, on-site machine operators and mechanical engineers to collect the relevant data and modify the current status back to OEM specification.