Leussink expands its horizons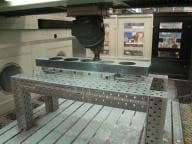 Outside the square … Leussink now operates a comprehensive outsourcing facility
While many other local industries are downscaling, Leussink Engineering, based in the NSW industrial heartland of Wollongong, is expanding its operations into the mining sector.
Leussink is positioning its business as a complete bureau for outsourcing repair and engineering work, as well as education and training.
Director and Design Engineer of the company, Mr Jason Leussink, says the unique demands of the mining industry call for added levels of dedication to detail to ensure solutions give the client that added competitive advantage and speed of delivery.
"One of our clients for whom we engineer and repair components and also manufacture a lot of OEM (original equipment manufacturer) products, came to us with a proposal we manufacture their product on an OEM arrangement," said Mr Leussink.
"This is a product that has never before been outsourced by this large player in the mining industry, so to give the client a level of advantage and confidence in our methods we approached the task in a different manner to what industry normally expects, he said.
"We sent two of our engineers to one of their facilities in the USA to learn thoroughly the manufacturing techniques and what the requirements were.
"Once they were readily equipped and knowledgeable they returned to Australia and implemented the manufacturing know-how at our own plant in Unanderra and we are now manufacturing that part to exact specifications and tolerances expected by the customer.
"A lot of this particular customer's requirements are for equipment used in cutting coal out of underground mines."
Leussink provides industries nationally with engineering services, prototyping, emergency repair work, machining and manufacturing, welding and design engineering.
Its diverse markets range from small, repetitive parts manufacture through to design, manufacture and repair work for small and large items to the mining sector, railways and dockyards, production plants, construction, agriculture, automotive sector, steel, engineering, maintenance and public works.
Leussink
Ph:  02 4260 7777