Published 13-08-2020
| Article appears in August 2020 Issue
LET AGVS DRIVE YOUR SUPPLY CHAIN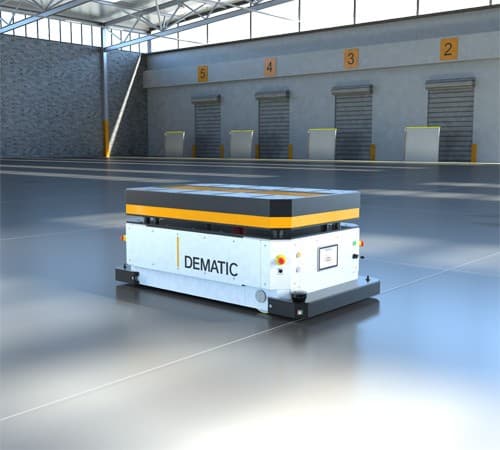 Intralogistics innovator Dematic has introduced its new Table-Top (TT) Series of Automated Guided Vehicles (AGVs), which offer highly accurate and agile navigation for improved flexibility within the warehouse.
The new TT Series AGV weighs in at less than 500kg, making it the smallest and most agile in Dematic's range, but is capable of carrying up to 1500kg.
The TT Series is available as a standard with a table-top lift, optional conveyor or custom model, and runs on high performance 24V lithium batteries with automatic opportunity charging.
The AGV's high-precision navigation of the warehouse floor, combined with its dexterous, flat-surface design allows it to utilise any warehouse space and eliminates the need for extensive use of pallet conveyors.
With a smaller turning circle than a forklift truck it can easily manoeuvre in tight spaces.
The robust design of the TT Series AGV means it can withstand the typically challenging environment of a warehouse. Automatic sensors detect obstructions and enable it to co-work with operators and forklift trucks, all while providing a 360-degree safety field of protection.
For Dematic, which designs, builds and supports intelligent, automated solutions for supply chain environments, flexibility was key to the TT Series.
"The TT Series is a game changer for supply chain operations looking to make the most of smaller warehouse space with the reliability of a flexible, high-accuracy AGV," says Tony Raggio, general manager for AGVs at Dematic.
The TT Series AGV provides an open plan automated solution, with flexibility to cater for any ongoing business demands. It offers the latest in navigation technology, using laser and natural guidance or floor-embedded QR codes to travel around the warehouse with accurate positioning at speeds of up to two metres per second.
As with all Dematic AGVs, the TT's paths can be reconfigured as operational requirements change.
The TT has a wide range of possible applications within the warehouse, including point-to-point transfers, conveyor to conveyor, production lines to delivery, robot palletising and picking cells, empty and full pallet handling, raw materials handling and pick & go.
"The integration of AGVs in warehouses has become increasingly beneficial for industries looking to increase their productivity," Raggio says.
"They offer 24/7 operations with incredible accuracy, improved fulfilment efficiency and reliability to optimise all channels of the supply chain. The new TT Series AGV is a great new addition to Dematic's popular AGV range."
Dematic
02 9486 5555
www.dematic.com.au