Let's build new submarines: Combet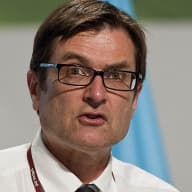 Building new submarines could transform Australia's manufacturing at a time when car makers are shutting down their operations, says former Labor Industry Minister Greg Combet.
Mr Combet told ABC television new submarines would be a hugely important project. He regretted the former government didn't achieve greater progress.
"It's a very important and large project that would go for many years and would sustain a lot of industry development," he said.
The 2009 and 2013 Defence White Papers proposed acquiring 12 next generation submarines to replace the navy's six Collins submarines around the mid-2030s. The price tag has been put as high as $40 billion.
Planning is now under way, with the government opting for either a brand new design or an evolution of Collins.
Mr Combet, who now heads a South Australian industry taskforce, said much work was needed to start manufacturing, but some work can be done now.
For example, the propulsion system for the new boats could be developed and tested.
He said the heads of both the Collins submarine maintenance program and air warfare destroyer manufacturer in Adelaide both came from the motor industry.