Lencrow spreads its wings to WA
31-08-2010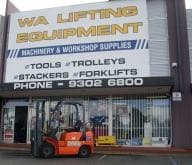 With many of its customers requiring services in Perth, Lencrow Materials Handling has joined forces with a leading WA forklift supplier.
Lencrow managing director Ross Grassick says the new partnership with WA Fork Trucks will help Lencrow grow the EP brand of materials handling equipment available eastern states for more than nine years.
"We have always been an independent Australian company that is family based and Australian owned and operated, says Mr Grassick. "So we were looking for a locally based, owned and operated business that could offer the service our customers have become accustomed too, he said. 
"We also pride ourselves on supplying the best solution for the best possible price. So we were happy when we found the three partners Allan Letcher, Neville Baker and Noel Singleton from WA Fork Trucks had the same business principals. 
WA Fork Trucks is a part of WA Lifting Equipment a local business that has been established and operated from their base at Wangara a northern suburb of Perth. 
Allan Letcher managing director of WA Fork Trucks says: "We have been selling and hiring forklift for several years, over that time we have noticed that good quality used equipment is getting harder to find. 
"To that end we were looking to find a quality product that we could get at a reasonable price to fill the gap. EP Equipment manufactures products that are well built and also cover the full range that we offered. The other point that attracted us to the EP product was the nine years of continued and growing supply of the EP range by Lencrow in Australia. This meant we had the back up in Australia from a company with hands on experience giving us the support we require to service our customer needs."
EP now with a range of equipment that covers 1-25 tonnes in internal combustion, counterbalance electric units to 5000kg, reach trucks to 2000kg. 
All units are offered with well-known drive trains and control components. They are completed with a finish that shows an eye for detail.
Lencrow has also just released their "Easy" range of powered pedestrian pallet jacks, stackers and reach trucks. 
This range is designed to offer affordable and easy to use handling equipment. Many units in this range offer as standard power steering and finger tip controls. 
Lencrow 
Ph: 1300 536 276
WA Fork Trucks
Ph: 08 9302-6800