Lencrow opens new parts department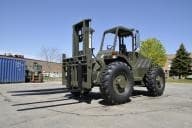 The Melbourne division of Lencrow Materials Handling has opened a parts department specializing in all terrain and rough terrain forklift parts.
Lencrow who already sell Ausa, Liftking and Faresin all terrain forklifts and telehandlers and with the acquisition of Calmat in Victoria will continue to supply parts for the Mast Explorer and Saez telehandlers.
"We will cover parts for the brands we are agents for and also offer parts for other makes and models, says Ross Grassick of Lencrow. "We have been involved for 30 years with the all terrain market so we have a wealth of knowledge in relation to what units have been supplied into the Australian market.
"One problem that has been conveyed to us is brands come and go as do dealers. This leaves may people with units stranded when it comes to after sale parts and service."
Mr Grassick said the idea for the new department came after repeated requests from frustrated customers. 
The all-terrain forklift and telehandler market has doubled over the past 10 years. 
Paul Abboud, who is in charge of developing the new department says: "All terrain Forklift Parts has been set up to allow a one-stop location for people to source parts for their all terrain forklifts and telehandlers. "We are looking to expand this service to offer online parts enquiries and ordering system." 
Within the near future, parts will be available throughout all our branches on the east coast. 
Contact Lencrow for more details on Allterrain Forklift Parts. 
Lencrow Materials Handling
Ph: 1300 536 276