Lencrow now supplies Lowry forklifts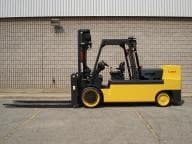 Built in Canada, Lowry forklifts are a part of the Manitex Liftking Group, which makes Liftking rough terrain forklifts.
Lowry forklifts – all less than 1500mm wide – are designed to work in confined spaces, offering lifting capacities of 11000kg to 23000kg. 
Lowry units all come with electronically controlled Dana three speed transmissions and have option of LPG and diesel engines. The units are all fitted with cushion tyres to ensure maximum stability for footprint.
"We are very happy that Lencrow will be offering both Lowry and Liftking products in Australia, says Mark Aldrovandi, international sales manager of Liftking. "We have supplied a lot of the Lowry machines in Canada and the USA and they are proving our customers with very reliable products in their manufacture facilities. We have put a lot of effort into making these units driver friendly while still offering robust design."
The Lowry units are suited to applications where both size and large capacity lift is required. They are also ideal in the machinery relocation industry where getting equipment out of existing sites that offer little to no space but still require the muscle to get the job done.
Ross Grassick General Manager of Lencrow says: "We have been looking to offer a range of equipment like Lowry for some time. We have found it hard to get a product that can offer a built to requirement unit. Lowry offers us with the ability to make changes in the build to make the unit more suitable for the application. These could be making the unit suitable for container entry or custom build masts and carriages for special needs."
Wide view mast and wet brakes are available on all Lowry models. 
Lencrow Group
Ph: 1300 536 276