Lencrow gives leading rural company a lift
28-11-2013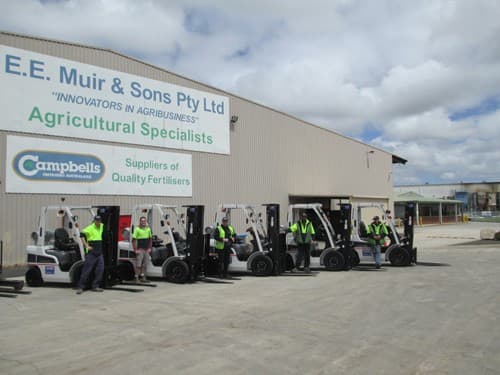 EE Muir & Sons, a leading supplier of farming and agricultural products, recently took delivery of the first eight in a fleet of 35 new forklifts at its Laverton branch in Victoria.
Lencrow, a specialist in materials handling solutions, was chosen as the preferred supplier.
EE Muir & Sons Operation Manager Mr Robert Abell says his company has been dealing with the Lencrow Group for many years.
"So when the decision was made to update our forklift fleet nationally we approached Lencrow and asked them to come up with a solution, Mr Abell said.  
"The fully maintained leasing arrangement backed by the professional service offered from Lencrow, coupled with the quality and reliability of the Nissan forklift, has made that decision a successful one."
Mr Abell and his warehouse staff (pictured) were pleased with the new Nissan 2.5T container forks and the All New Nissan Euro Reach trucks to complement their operations at the large Laverton warehouse facility. 
EE Muir, a family owned company, distributes farming and agricultural supplies to clients throughout Australia through 26 rural depots.
Each depot will upgrade its material handling equipment with the Nissan 2.5T container fork.
The Nissan is a class leader with a impressive range of options as standard.
Warehouse operators loved the Nissan's smooth ride and its responsiveness in lift mode.
The Nissan makes their time in the saddle more comfortable and day-to-day operations more efficient. 
Lencrow tailored a package to suit EE Muir & Sons nationwide stores. New forklifts were delivered to all states including Katherine and Humptydoo in the Northern Territory and Ayr and Tully in far North Queensland. 
To do this Lencrow amortised the costs, providing long term, fully maintained rental equipment and service backup through its extensive network of state branches and local agents.
Lencrow Materials Handling
1300 536 276
www.lencrow.com.au