Lencrow expands its forklift fleet
31-08-2010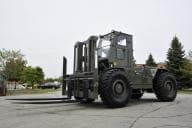 Lencrow has added two new 12,000kg EP forklifts to its highly impressive fleet. 
The units are EP model CPQD120 fitted with 4000mm masts and fork positioners with side shift. 
These have been put into or casual hire fleet to support the growing requirement for forklifts in civil and mining works.
Mr Rodney Jackson Queensland manager for Lencrow says: "Over the past 24 months the requirement for this size and type of equipment has doubled. 
"Traditionally this market was supplied units that we several years old many with large hours on them. We feel with the pressure of time on these projects they need new or near new equipment to keep within the tight schedules."
Lencrow has also started to import the heavy duty Liftking products from Canada winning a contract with the RAAF to supply 12 all terrain air transportable 6000kg forklifts. These units are currently being tested prior to supply with the last unit being installed in May. 
Lencrow has currently all terrain units available in Australia up to 10,000kg and can supply units up to 25,000kg. 
These units do not fall into the class of compact rough terrains with many units being able to forward water to 1200mm in normal operation modes.
Mr Mark Aldrovandi international marketing manager for Manitex Liftking says: "We have been manufacturing rough terrain forklift in Toronto for over 30 years and in that time we have learned to build units that stand up to tough environmental conditions. We have units that work in all corners of the globe for both commercial and military users. Basically you give us an outline of what you need to do and we will or can build a unit for that operation."
Lencrow is currently in negotiations with the Terex Corporation to supply the Terex range of container handling equipment that includes both forklifts and reach stackers to 60,000kg. The range that was formally Fantuzzi has been used in Australia since 1994 and Lencrow who owns several Fantuzzi units has over 15 years experience in the product range. 
They will also be supplying parts and service for existing Fantuzzi and Terex users.
Lencrow
Ph: 1300 536 276