Lencrow expands its easy reach range
31-08-2010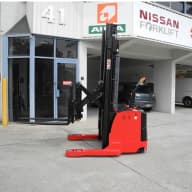 Lencrow has extended its range of pedestrian walkie reach trucks, offering two sizes and more lift heights.
The first models of the easy range were limited to 1500kg – Lencrow now offers a 2000kg range.
The new range still has standard power steering and options of masts to 6000mm, with optional side shift if required.
Ross Grassick, Managing director of Lencrow Materials Handling, says the new models which feature AC traction for drive and a Curtis controller, are proving to be very reliable.
"This system gives smooth throttle operation and infinite control," Mr Grassick says.
The hydraulics are DC control and come with options of manual or tiller control.
"We have been importing our Easy Reach units for the past two years and are now getting repeat business due to customer endorsement, says Mr Grassick. "The only requests have been for improved capacity and higher lift heights. We are now able to offer this as well as custom build where the customer requires."
The mast heights above 4500mm are all three stage and standard units in these heights have side shift as standard.
The units have an automatic battery charger to keep the battery in top condition. This is separate to the unit, giving better reliability for the charger.
The handle is ergonomically designed to give the operator control of the unit as well as the best visibility to the load.
The units have a full range of safety features to comply with latest WHS requirements and are supported with Lencrow's Australia wide service and spare parts.