LENCROW APPOINTED NEW DEALER FOR NISSAN FORKLIFTS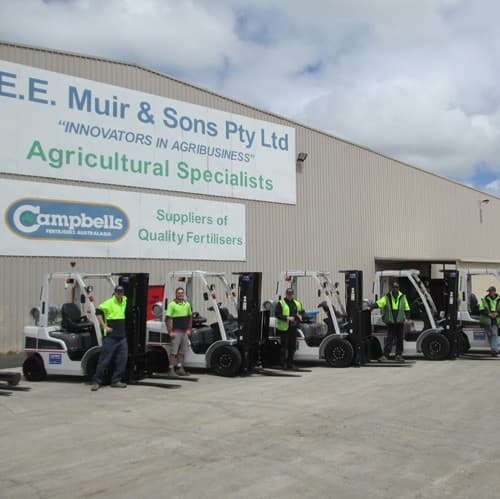 In a major coup, Lencrow Materials Handling has sealed an exclusive deal to become the independent dealer for Nissan Forklifts by Unicarrier in Sydney, Brisbane, Melbourne and Adelaide.
Lencrow has taken over all the retail operations for Nissan by Uni-Carrier in these major cities and will be responsible for the service, spare parts and hire operations.
Ross Grassick Managing Director of Lencrow said about 57 operational staff of Powerlift Materials Handling would be retained in all the branches.
This would ensure a smooth transition and offer customers even better levels of service and support.
The full transition is expected to be completed before the end of January next year.
"It's exciting news, said Mr Grassick. "This deal has been in the pipeline for the past 4 or 5 months."
Lencrow's business relationship with Nissan Forklifts began in 1988 with the acquisition of Nomad Materials Handling.
"We have always been a fan of the Nissan products and have been a sub-dealer for the eastern states, Mr Grassick said. "Over the past few months we have been discussing becoming more involved with Nissan by Uni-Carrier with Powerlift Materials Handling.
"They were also looking to move from a retail presence to wholesale which has given us the perfect opportunity to step up to the plate. This product completes our already comprehensive range of equipment."
Lencrow now has more than 3000 models in its vast range of forklifts and materials handling equipment, making it one of the most comprehensive in the Australian market.
"And all of our products are factory backed," Mr Grassick said proudly.
Lencrow has a proven track record in materials handling sales and rental over many years, which helped them to clinch the deal.
"They were confident we could do the job," said Mr Grassick.
Lencrow has been hiring forklifts since 1976 and is one of the oldest family-owned forklift businesses in Australia.
Following the new deal Lencrow will now have more than 2000 machines in its hire fleet Australia wide.
Lencrow NSW State Manager Ross Smith says: "Lencrow has come a long way over the past few years and we like to think that it's because we are customer focused. The mission statement of the business is to offer the best quality and type of equipment to suit a customer's requirement while giving the best value for money. Adding the Nissan Forklift by Unicarrier range gives us the only unit we were not an original equipment manufacturer for. Having this gives an even larger range of service we can offer."
Under the new arrangement Lencrow will have new branches in Adelaide and Newcastle.
This will improve the level of service to existing customers in those areas and offer Nissan Powerlift customers a larger and more diverse range of equipment for sale and hire.
Lencrow offers after sales service and parts for all equipment supplied. This commitment is backed up with more than $1 million worth of spare parts stocked nationally.
"For Nissan customers it will be business as usual with an even greater level of service, Mr Grassick said.
"We tend to set the bar a bit higher than other companies."
Lencrow Materials Handling
1300 536 276
www.lencrow.com.au