The Legend has arrived
31-08-2010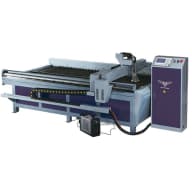 Steel Tailor products from Punchtech Australia provide innovative and economical sheet metal cutting solutions that won't break the bank.
Its latest product – the Legend II Plasma sheet metal cutting machine – can cut almost all metal sheets from mild steel, stainless steel galvanized steel, copper and aluminium.
It is an ideal machine for signmaking, general sheet metal cutting, HVAC sheet metal cutting and other sectors that don't require an accuracy of more than 0.5mm.
The Legend II is the first in its range, dedicated to thin sheet cutting from 0.3mm thick material up to 5mm.