LEDS HAVE CLEAR ADVANTAGES IN DISTRIBUTION CENTRE LIGHT UPGRADE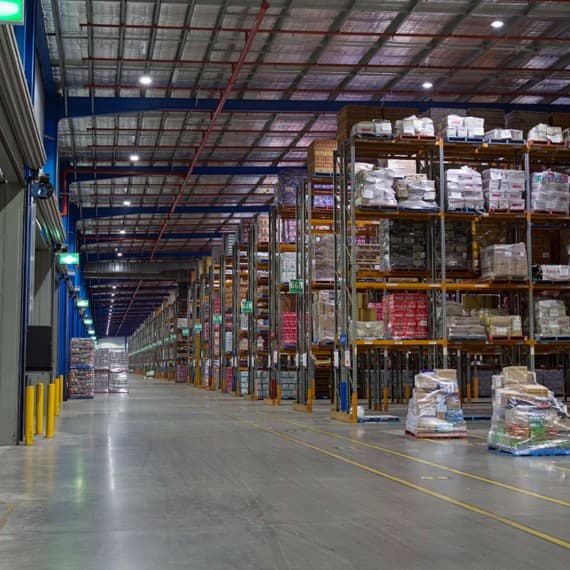 Less than a decade ago, fluorescent lighting was considered the state of the art for warehouse lighting. Now, LEDs offer improved light quality and significant energy savings.
Metcash is Australia's leading wholesale distribution and marketing company specialising in grocery, fresh food, liquor and hardware.
The company's massive Huntingwood NSW distribution centre in Western Sydney comprises more than 77,000 square metres of ambient and temperature-controlled warehouse storage areas and 5500 square metres of corporate office space.
When it opened in 2012, the distribution centre set a new "best practice" standard for green industrial facilities in Australia, receiving 4 Star Green Star – Industrial Design v1 and 4 Star Green Star – Industrial As Built v1 ratings.
However, such has been the progress in energy-efficient lighting technology since the opening that last year Metcash called in Aqualuma to upgrade the lighting within the distribution centre. The objective was to reduce energy consumption while maintaining or improving lighting levels.
During September 2017 more than 900 Australian made Aqualuma highbay LED light fixtures were installed at the Metcash Huntingwood distribution centre.
These replaced and upgraded the original installations of fluorescent light tube fixtures within the ambient groceries warehouse and external metal halide floodlights on the perimeter of both warehouses on the site.
The upgrade saw more than 5500 T5 fluorescent tubes and 70 floodlights removed and recycled.
The project was a resounding success from its conception right through to completion. All deliveries were sent on time, and the installation was completed well ahead of schedule by Lan Installations.
The results have been spectacular. "The improvement to the quality of lighting is outstanding and clear for all to see," says Metcash Maintenance & Facilities Manager John Tanti.
The energy savings are just as impressive. The fluorescent lighting in the warehouse was rated at a little under 300kW with all lamps at full power. The replacement LED highbays consume less than 115kW.

Outdoors, replacing the metal halide floodlights with LEDs has reduced the full power drain from 16.8kW to 9.6kW.
Also, around 70% of the new fixtures have integrated motion sensors to enable "on-demand" lighting that provides further substantial energy savings.
In the words of John Tanti: "The Aqualuma products were the obvious choice compared to their competitors, based on functionality, simplicity, extended warranties and overall appearance. Plus the additional benefits of significant savings on power consumption and virtually no ongoing maintenance costs mean that moving forward it's a winner."
The icing on the cake for Metcash was the significant government rebate provided by accredited certificate provider Energy Conservation, which managed the creation of energy savings certificates.
The NSW Energy Savings Scheme recognises Aqualuma as approved LED brand that can attract a financial reward.
Aqualuma
1300 145 555
www.aqualuma.com