LEDified shines the light on security
31-08-2010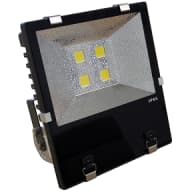 LEDified, Australia's largest full service LED lighting specialist, has launched a range of energy-efficient floodlights that last for more than 50,000 hours.
These lights offer big potential savings to a company's greenhouse gas emissions and its bottom line. 
The first of their kind in the market, the LEDified floodlights use up to 80 percent less energy than traditional lighting.
They are suitable for a range of applications including security lighting around factories, storage yards, loading docks and commercial buildings.  
Suren Chandrajit, LEDified's Chief Executive Officer, said the cost of security lighting can be very high particularly when you factor in maintenance costs.
"Some companies have to hire lift equipment to replace floodlights which can be a costly exercise, Chandrajit said. "As our lights last more than 50,000 hours, both the operation and maintenance costs will be substantially reduced."
A suitable replacement for 250W-400W HID floodlights, the LEDified range is available in 50W, 100W and 200W and emit a bright neutral light (4000 kelvins).  
They can be angle-mounted up to 120 degrees and can withstand temperatures ranging from 40°C to 85°C.
LEDified floodlights are fully installed by Class A Electricians and come with a 3-year full replacement warranty and Certificate of Electrical Safety. 
To complement its energy-efficient floodlights, LEDified also offers downlights, fluorescent tubes and high bays.
LEDified is an Accredited provider under the Victorian Government VEET Incentive Scheme and can offer discounts on switching to energy efficient lighting.