LED high bays: the sensible choice
31-08-2010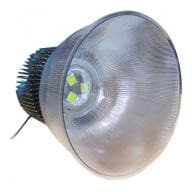 In the wake of increasing electricity usage and rising energy bills, it makes sense to switch to LED high bay lights. 
Whether a factory, warehouse, shopping mall, exhibition hall, hotel, stadium or service station, many businesses can benefit greatly by switching from metal-halide to LED lighting.
Firstly, it will be far more cost effective in the long run. 
LEDs use about 20 per cent power of a conventional metal-halide. High quality LED lights can have an average life expectancy of 50,000 hours. This greatly reduces maintenance costs, which will also save you time and money.
LED high bays are also a much safer option in the workplace because of their minimal heat emission which reduces the chance of catching fire and causing burn-related injuries.
Unlike CFL bulbs, LEDs do not contain mercury or any other toxic or hazardous materials and are therefore environmentally friendly and safer and easier to recycle. 
In summary, installing LED high bay lights will save on labour costs, reduce cooling costs and improve productivity in the workplace. 
It's a sensible choice for any business.
Cable-Loc Electrical Accessories
Ph 1300 722 275