Lean solution from Modular Components
31-08-2010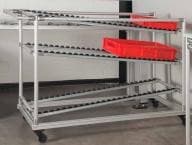 Aluminium extrusion company, Item Germany have ventured into exciting territory with a round aluminium tube, called D30. 
It is designed for quick and cost-effective assembly of trolleys, flow racks and material handling solutions of all kinds.  
The assembly requires no machining or welding, as the tubing comes with its own range of fasteners, requiring nothing more than an Allen key. 
"It puts control in the hands of the end user," says Ross Kenneally, from Item's distributor in Australia, Modular Components & Automation. 
"The customer decides on the design and they can put their ideas into action straight away." 
Modular Components & Automation will be displaying the D30 aluminium at National Manufacturing Week, stand 3507.
Modular Components & Automation
Ph: 03 9706 4601