LEAN JAPAN TOURS BOLSTER BUSINESS EFFICIENCY WITH JAPANESE KNOW-HOW
18-02-2016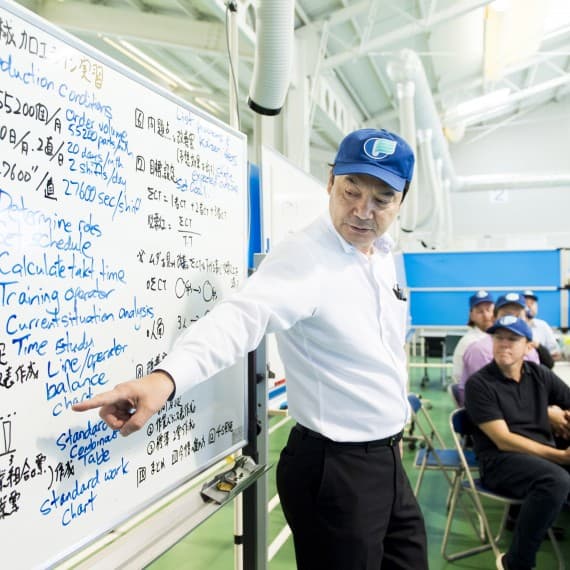 The Japanese strategy for continuous improvement - kaizen - is legendary for underpinning Japan's world-leading manufacturing efficiency and quality. Reporting for Industry Update in November, I had the privilege of witnessing the impressive results of authentic kaizen on the Shinka Management Lean Japan Tour held in Tokyo and Nagoya.
I started with some scepticism. The stereotype in mind was that overseas events were over-hyped talkfests of limited practical value. The Lean Japan Tour blew this perception away. Every participant I spoke to - and I spoke to most - had nothing but praise for the tour and reported taking away a wealth of practical ideas to improve their business.
Craig Mitchell of USA financial services company Chartwell Compliance remarked, "You can read about kaizen, you can study the principles, but seeing the practical application of it - there is really no comparison."
My initial scepticism extended to the very idea of globally-applicable Japanese wisdom. How could it address day-to-day business needs in a very different culture and legal system? Having written about business and economics for a decade, I've heard it all before. The tour here too, proved me wrong.
Kaizen is not pie-in the sky or culturally-specific, it's about a methodological approach to improving processes and corporate culture. It emphasises schedules, targets and quantitative analysis to deliver precision and efficiency across the work stream.
Particularly impressive was the tour's practical sessions. Participants were challenged to apply their learning with real machines, in factory setups. In time-limited scenarios, they worked in teams from planning and quantitative analysis stages through to output.
You could see the eureka moments as theory turned to practice. A talkfest this was not.
The seven-day tour included sessions with such global leaders as Gifu Auto Body, Toyota Body Seiko, Metal One Isuzu, Rinnai and Brother Industries.
In awe, I saw some of the world's greatest factories in action.
The Shinka Management team is led by Paul Smith and Ben Sparrow. These men are genuine experts of kaizen, having learned directly from Japanese masters. Both were trained in Japan - Smith boasting a PhD in Engineering from Kyoto University - with years of experience improving processes in wide-ranging businesses.
Participants came from Australia, New Zealand, USA, Saudi Arabia and the United Arab Emirates. The industries represented extended to forestry, aviation and even financial services. Kaizen is a process and a mindset that can be applied across sectors. The tour's diversity promoted creative knowledge sharing.
"The tour was a truly unique learning experience shared with like-minded professionals from around the globe," said Daniel Eldridge of South Australia-based Redarc Electronics.
Australian businesses can learn something from Japan's teamwork culture. Australian employers sometimes speak of unmotivated workers and "she'll be right" complacency.
Some workers feel they lack a voice to promote their good ideas. While the Japanese can't be hurt by their harmonious and diligent culture, such attitudes have been fostered successfully the world over.
When Toyota, as part of a 1984 joint venture with General Motors, took on management of the Fremont Motor Plant, they adopted a nightmare.
Drunk workers openly flouted management. They dealt drugs on the job and sabotaged cars using overtime to then fix them. Nevertheless, Toyota's management systems transformed the factory, with productivity surging to rival plants in Japan. All this with the existing workforce.
A representative from Metal One Isuzu pointed to their company's foreign workers from across the globe. It's not about culture, he said, it's about structures and processes.
The Japanese are adroit in encouraging workers to take ownership and pride in their work. Factories prominently display detailed performance measures, for workers, teams and the overall plant. There are rituals of acclamation for successes. With improvement come increasingly more ambitious targets.
Many assume that Japanese innovating is driven by cutting-edge technology. On the contrary, it was the ingenuous simplicity that was striking. The staff design solutions internally with minimal resource usage.
As Hiroya Yamashita, a former factory manager from Gifu Auto Body remarked, "Draw on knowledge – if you don't have knowledge, apply sweat – don't throw money at a problem."
One example was a tool for moving goods along the production line composed of a wooden plank and a curtain rail. Powered only by gravity, a hook with the item slid down the curtain rail, with a drink-bottle as counter weight. Participants remarked that their instinct would have been to buy an expensive over-engineered machine.
The tour was packed with serious content, but made time for historic sightseeing and fun.
The dinners featured excellent Japanese cuisine and some terrific conversations.
A representative of one company, whose tour participation went back years, said the tours enhanced worker performance so much they were putting their entire workforce through.
Global competition intensifies every day. If your business has scope to life its game, seriously consider the Shinka Management Lean Japan Tour.