LAUNCH SITE SELECTED FOR SENSOR SYSTEM SATELLITES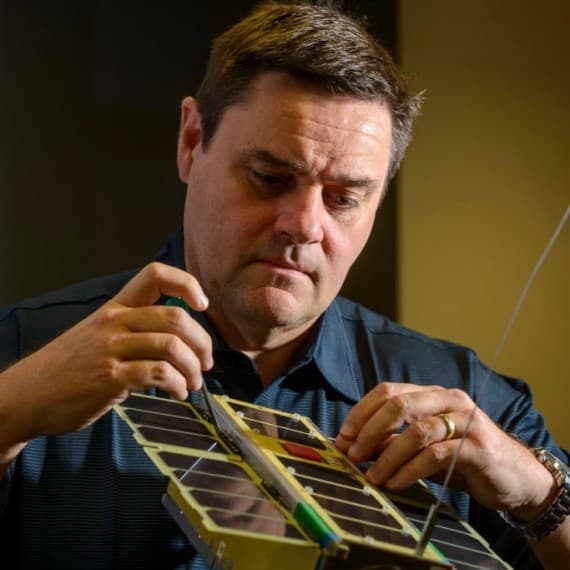 Ian Spencer, DEWC Systems: "it's about being a bit more self-reliant on Australian-developed technologies and capabilities"
South Australian electronic warfare company DEWC Systems will look to use a planned launch facility in the state to deploy its constellation of defence satellites.
As part of the Miniaturised Orbital Electronic Warfare Sensor System (MOESS), DEWC Systems will work with Southern Launch to be an early user of its facility at the Whalers Way Orbital Launch Complex near Port Lincoln on Eyre Peninsula.
In November it received a $150,000 Defence Innovation Partnership grant to lead phase one of the project in collaboration with the Department of Defence's Defence Science Technology Group, the University of Adelaide, Flinders University and University of South Australia.
The project is moving from the research phase to design and prototyping in the coming months and is expected to progress to flight trials in 2020 and in-space testing in 2022.
It will involve a constellation of about 20 CubeSats fitted with a range of sensors and monitoring equipment to detect radio frequencies and signals such as radars to offer a view of ship and aircraft movements from above.
It aims to provide the first fully Australian developed, owned and operated space based electronic warfare capability.
The announcement in December that Australia's new national space agency will be based in Adelaide sparked a flurry of activity among established companies and startups in the South Australian defence and space sectors.
DEWC Systems CEO Ian Spencer says having a national space agency also provides the opportunity for Australia to contribute more on an international level rather than relying on the goodwill of other nations.
"Our aim is to be able to provide Australia with new capability we currently don't possess ourselves," he says. "We need to believe in ourselves as a nation and that's about being a bit more self-reliant on Australian-developed technologies and capabilities."
"This will also give Australia the ability to contribute to our partner and allied capabilities so that we can have a more equal standing in the Five Eyes community as well."
Southern Launch announced Whalers Way as the perfect site to develop its launch facility in December. The 1190-hectare site sits at the bottom of Eyre Peninsula, about a 35-minute drive from the regional city of Port Lincoln. The complex is 250km west of Adelaide and 500km south of Woomera, the historic rocket launch site that is restricted to military use.
Construction is expected to begin this year, and the complex has already attracted interest from global space companies such as Italy's Sitael. It is being designed for rockets that can carry payloads of between 50 and 400kg.
Given its location and the planned launch route over the Great Australian Bight, rockets will carry satellites into polar orbits and provide truly global coverage for services such as the IoT, monitoring of land, sea and air, and providing dedicated communications to remote parts of the world.
Launched from the complex, the MOESS satellites will enter polar low earth orbit and provide worldwide coverage at a fraction of the cost of other launch sites.
Southern Launch CEO Lloyd Damp says he is looking forward to working with DEWC Systems on the project.
"It is Southern Launch's goal to help develop the resilient, space-enabled Australian Defence Force of the future, something that is shared by DEWC Systems," he says. "The MOESS project, led by DEWC Systems, will provide our Defence Force with a tactical edge that will ensure the safety and security of our soldiers."
Spencer says he plans to have CubeSat prototypes ready for testing by early 2021, which includes design work to integrate with a space launch vehicle.
"Hopefully we can line things up so that when Lloyd is ready to start launching we can jump on board," he said. "We're trying to work with as many South Australian companies as we can.
"The Australian space industry is just taking off at the moment and the announcement of the space agency being housed in South Australia is stimulating a lot of interest and there has been a lot of investment in all sorts of things to do with space.
"It's a really good time to be in it because there's an understanding that while we need to be competitive businesses, we are also looking for ways to work together where we can and there's a real sense of mutual benefit."
South Australia has been a significant player in the nation's space industry and is home to major Tier 1 defence companies and several emerging space startups, including Fleet Space Technologies, Inovor Technologies and Myriota, which have all announced new IoT initiatives this year.
In April it was announced that the national $245 million Cooperative Research Centre for Smart Satellite Technologies and Analytics (SmartSat CRC) would be headquartered at the University of South Australia in Adelaide with 82 industry and research partners including DEWC Systems and Southern Launch.
The SmartSat CRC bid is among the latest in a series of announcements that have cemented South Australia's position as the headquarters for the space industry in Australia along with a $6 million mission control centre for small satellite missions and an educational centre also to be built in Adelaide. 
DEWC Systems
0479 133 392
www.dewc.com/