A lathe company that began in Queen Victoria's reign
31-08-2010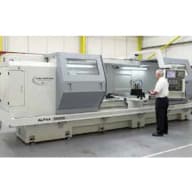 Visitors to the famous EMO Machine Tools Show (EMO 2013) in Hannover, Germany in September are in for a special treat. The 600 Group will showcase many of its industry-leading machines, including Harrison's Alpha X Series – the world's finest CNC combination lathe.
And Australian workshop managers visiting the show will have the added bonus of a conducted tour of the 600 Group's design, production and assembly, and testing facilities in Yorkshire before or after visiting EMO – subject to an appointment.
The refurbished 7,000 sqm centre, which includes offices and showroom/demonstration facilities, has adopted a Kanban style production process – certified to the ISO9002 QA standard – that, for example, results in 3,500 components leaving the factory as a completed lathe.
In a precursor to the big event in Germany, 600UK reported a tremendous visitor response to its 3-day open house event in June.
Visitors included UK and overseas customers, training providers, global distributors, suppliers, many other engineering specialists, and representatives of the trade press from Europe and further afield.
In addition to the formal unveiling of the Group's latest manufacturing and office facility, 600UK showed its range of advanced Tornado CNC turning centres, Alpha manual/CNC "teach" lathes, and Colchester and Harrison manual centre lathes. Also displayed were advanced workholding products from Pratt Burnerd International, and taper roller bearings from Gamet Bearings.
Completing the line-up were the Raptor and D-Box fibre laser-marking system from fellow 600 Group company, Electrox;
Many of these machines, designed and built with the company's huge legacy of engineering skills and technology developed since the 1890s, are to be demonstrated at EMO 2013, the world's biggest exhibition of machine tools.
Managing director, Australia, of 600 Machine Tools, Cliff Purser, said: "Among the industry-leading machines on show will be Colchester's latest 2 and 3-axis Tornado CNC turning centres, Harrison's Alpha X Series – the world's finest CNC combination lathe – in addition to Colchester and Harrison's top-selling conventional centre lathe range.
The new modular-built Tornado CNC turning centres provide an even more robust manufacturing platform than their predecessors, ensuring greater accuracy and reliability than ever before, and now sit alongside the hugely-popular Alpha XS manual/CNC lathe, with models that can accommodate up to 6-metre bed lengths and C-axis capability for handling larger, more complex components."
The compact Tornado T2M 3-axis model, designed to handle even smaller complex parts than previously, has already enjoyed significant success, especially when incorporated with the Colchester MBF automatic barfeed unit.
Like its heavier counterparts, (the T6M, T8M, and T10M) the new Tornado T2M has full C axis, spindle disc brake and driven tooling to make radial and axial milling, drilling, boring, and tapping easier than ever.
The Fanuc OiTD control system, incorporating Colchester's unique Manual Guide i features, with its 100 percent conversational programming system reduces the need for ISO programming knowledge and ensures that the Tornado CNC production lathe is one of the simplest-to-operate CNC turning centres available in the market today – a big plus for employers being held back by Australia's current skill-shortage.
Mr Purser noted that visitors also will have an early opportunity to see the new Gripfast combination
Power Chuck from 600 Group member Pratt Burnerd International. This provides CNC lathe customers with a chuck, a collet chuck, and a mandrel chuck – all combined in the one unit – allowing instant set-up changes for medium to small batch production runs.
"For workshops of every size, the revolutionary Gripfast will increase productivity and minimise nonmachining time," Mr Purser said.
A 'turn' for the better
Presenting the annual report to shareholders, the chairman of the 600 Group, Paul Dupee, said that the company had observed a 'turn' for the better in the global economy.
Sales rose 11 percent, with a return to profit in the second half of the financial year ending March 31.
For customers in Australia, levels of liaison, advice, support, and service have been maintained and are set to improve even further in the year ahead.
"When news of a new Colchester Tornado family of CNC lathes hit the industry's highly-efficient grapevine, we had many enquiries." Mr Purser said.
"The imminent exposure of this exciting newcomer to the vast market of Europe, on the 600UK stand at EMO 2013, means that it would be prudent for serious buyers in Australia to firm-up their order before the delivery queue at the factory in Yorkshire becomes frustratingly long."
600 Machine Tools
Ph: 02 9674 4738