LATEST TECHNOLOGY ON SHOW AT AUSTECH 2015
19-05-2015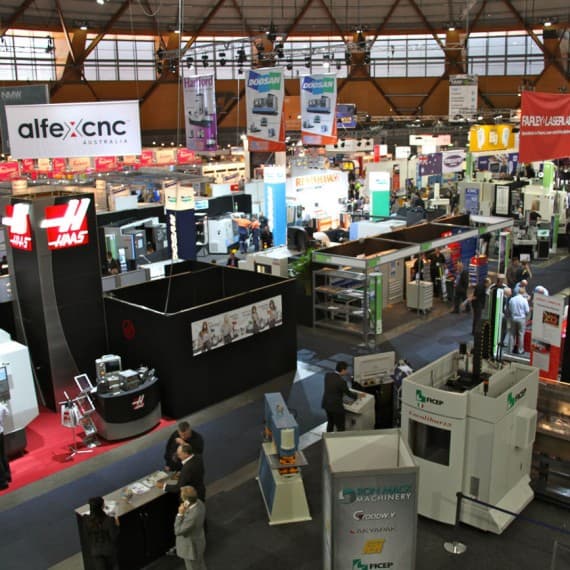 Manufacturing professionals attending this year's Austech manufacturing and machine tool exhibition can expect to see a feast of new technology when the show opens in Melbourne next week.
Co-located with National Manufacturing Week (NMW), Austech is the largest gathering of metalworking technologies in Australia.
What better opportunity to experience new and different ways to improve your manufacturing business by investigating, in a single venue, what the rest of the world is working on?
Here are a few of the many new products and technologies on show next week:
Waterjet machining
Omax Corporation and Headland Machinery, the company's exclusive distribution partner for Australia, will showcase the versatility and high-speed cutting precision capabilities of the Maxiem 1530 JetMachining Centre.
The all-new 1530 represents the company's next generation line of Maxiem machines.
Building on the cost-effective, yet high-performance technology of its predecessors, the newly redesigned 1530 offers enhanced durability, improved performance, and faster production times for an overall increase in productivity and profitability.
At Austech, the company is pairing the 1530 with a reliable 40-hp direct-drive pump to demonstrate how easy it is to cut virtually any material quickly and efficiently.
3D printing/additive manufacturing
BQ will be showcasing Ciclop, the first 3D scanner with 100 percent free software and hardware.
It has been designed and developed with the community in mind, so that they can use it, innovate with it, make their own changes and share them.
Ciclop is a rotating triangulation-based 3D laser scanner (it uses laser light to capture the geometry and texture of the object rotating on a turntable) and it is multi-platform.
To scan, Ciclop uses Horus, a free software entirely developed by BQ.
With this scanner, BQ is expanding its DIY ecosystem, which comprised Prusa i3 Hephestos until now.
Evok3D will be showcasing additive manufacturing in application together with Nissan Motorsport (Nismo).
On its stand the company will have race driving simulators, a display V8 race engine and competition steering, showcasing 3D printed parts.
Any professional 3D printers bought before June 30 will include a V8 Supercar Hot Lap in the Nissan Altima V8 Supercars.
Objective3D will be part of the Stratasys Pavillion – D05 and at the show we will be featuring the world's most versatile multi-material 3D printer – The Objet 500 Connex 3 by Stratasys.
The Objet 500 Connex 3 brings new production-floor efficiencies to fruition with in-house tooling, custom jigs, assembly fixtures and gauges.
With triple-jetting technology, hundreds of Digital Materials, and two spacious build-tray sizes, Connex3 is designers/engineers product development and production powerhouse.
Users of this 3D Printer will enjoy unmatched versatility with a range of material properties from rubber to rigid, transparent to opaque, neutral to vibrantly coloured and standard to biocompatible.
For jobs that require a range of mechanical, optical or thermal properties, only Connex3 lets you combine up to three base resins in pre-set configurations to produce up to 82 materials in a single build.
5-axis machining & CNC technology:
Okuma will showcase three levels of new technology, including 5-axis machining. New advanced technology machine models of 5-axis milling with turning, amazing advances in the user-interface of Okuma's own OSP controller technology and packaged, kit-style automation solutions.
Shera Bonnet & Associates will have a new web-based solution for monitoring the efficiency of CNC machines real time on show.
The company makes use of touch screens and tablets or smart phones to allow users to view up to the minute status of their CNC machinery from anywhere they have an Internet connection.
Managers walking around exhibition could be monitoring what their shop is doing while away from their plant.
Automatic messaging when a machines status changes and on line efficiency reports will allow management to assess how well their shop is going 24/7.
Accessories & more:
Dimac will have several new products from several OEMs at its stand this year, including Freddy Products: a vacuum coolant cleaner for coolant and swarf, Blue Photon: a workholding system for difficult to hold parts using light a activated bond, Royal Products: live centres and Velocity Products: displaces coolant on the window for a clear view in to the work area while machine is running.
Industrial Minerals will be showcasing the Geoblaster wet abrasive machine & Novatek Dustless tools, innovative equipment designed to control dust and air pollution in the industrial sector.
Trademaster specialised pipe bevelling machines will be on demonstration this year at Austech. The company will be showcasing a range of portable mandrel machines for bevelling steel pipe from diameters 32mm - 372mm.
Anca Motion shows its LinX Linear motors this year.
The cylindrical linear motors offer a conitnuous force rage of 407N to 815N as well as high-speed acceleration.
The cylindrical design provides improved performance at a lower cost when compared to conventional flat linear and rotary motors.
Zero net attractive forces improve efficiency with no down force, extending machine life.
The LinX linear motor range is available in a variety of different sizes to allow for application-specific solutions.
Ausfork has recently launched its new online training and record keeping service called ACT-Online at the CeMAT Exhibition in Sydney.
Ausfork has focussed on all of the Materials Handling Equipment (MHE) such as Forklifts, Pallet Jacks, electric Pallet Jacks, Walkie Stackers and developed online theory modules for the purpose of equipment specific Inductions, Refresher Training and Verification of Competence (VOC).  It is all backed by a Learning Management System that keeps all of the records 'in the cloud' www.ausforkcloud.com.au.
Owned and operated by the Australian Manufacturing Technology Institute Limited (AMTIL), Austech 2015 will be held at the Melbourne Convention & Exhibition Centre from May 26-29.