Latest Shinano wet grinder now available
31-08-2010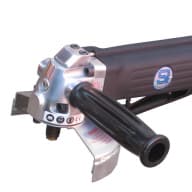 Japanese air tool manufacturer Shinano Incorporated has released a new model wet grinder to supplement its existing range of wet sanders.
The new grinder, available from Industrial Air Tools is ideal for use in the stone and ceramics industries.
The model SI-2515W is faster and more powerful than the existing models.
Fitted with a hollow shaft water feed, it is available with either 5/8" Whitworth or 14mm hollow shafts.
Primary uses for the SI-2515W are grinding and polishing stone and masonry using a rubber back-up pad and special diamond coated abrasive discs.