Latest safety products on show in Sydney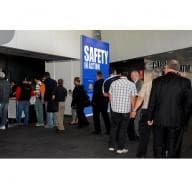 More than 150 exhibitors will demonstrate the latest products and technology at the Safety Show Sydney, the final safety industry trade show for 2013.
The three-day event, to be held at the Sydney Showground from September 3-5, will also feature free seminars with presentations by industry safety experts.
Sam Palermo, Exhibition Manager from organizers Informa Exhibitions Australia, says a highlight of this year's show will be WorkCover NSW's exhibition and interactive workshops.
"This will be WorkCover NSW's 11th consecutive show as an exhibitor, marking their commitment to the event and the safety of Australia's workers," Mr Palermo said.
Also, exhibitors from around the country will be displaying a comprehensive range of the latest safety-related products and services.
"Industry professionals will be able to speak directly to producers of safety products and resources and build relationships for future business engagements," said Mr Palermo.
The seminars will cover a wide range of topics including how technology is changing the way we undertake onsite safety, emergency planning, contractor management, OHS program planning and funding, personal protective equipment industry updates and an overview of the latest legislation that will affect your company.
Speakers include Carl Sachs, Managing Director at Workplace Access & Safety, Adrienne Strachan, Senior Consultant at NSCA: National Safety Council Australia, Richard Gregory, Managing Director, Navace and Richard Donarski, Team Leader – Health & Safety Product Services at SAI Global – Assurance Services.
Visitors can also attend The Advanced Logistics and Materials Handling show, to be held in conjunction with The Safety Show Sydney.
This show is ideal for visitors wanting supply chain specialist information on the packing, moving, storing, tracking and delivering industries.
Exhibitors include Wrightway Products, a leading provider of top quality bin tippers to Australian industry for the past 18 years.
They will showcase their latest products, including the Wrightway2MT Bin Tipper, with new safety features.
At The Safety Show Sydney Zap Cap will showcase a range of watertight seal safety caps, made from high-impact thermoplastic. These protect electric cables at risk of getting wet in worksites.
And Zedflo will have on display its latest electrical safety solutions, including test and calibration equipment supplied to oil & gas, mining and chemical industries around Australia.
Also, exhibitor Advacoat will display its brand of industrial concrete coating. The Advacoat Polyaspartic enhances the top coat appearance to produce a higher gloss and abrasion resistant film, resulting in a good looking floor with trouble-free maintenance.
To register or for more information, go to: http://www.thesafetyshow.com.au/ or call the visitor hotline on 1300 656 184.You can also keep up to date with the show on Twitter by following @thesafetyshow #safetyshow
What:   The Safety Show Sydney
When:   Tuesday September 3, 2013 10am - 4pm
            Wednesday September 4, 2013 9am - 4pm
            Thursday September 5, 2013 9am - 4pm
Where:  Sydney Showground, Sydney Olympic Park