LATEST INSPECTION AND TRACEABILITY SOLUTION FROM OMRON
01-09-2015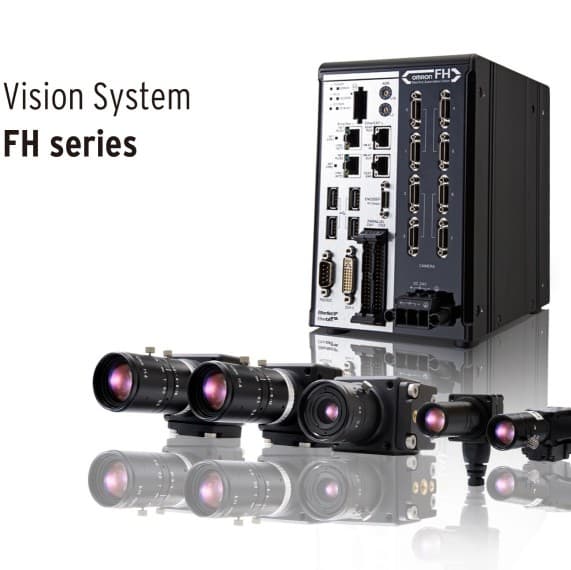 Omron's FH series vision sensor delivers high-speed performance, true colour technology base on RGB 16.7 million colour to deliver a reliable inspection and accuracy to improve productivity in a broad range of industry applications.
The FH vision sensor is now available with a new High Resolution Touch Panel Monitor FH-TPM for quality inspection, traceability and contamination inspection.
Mr George Nematian, Omron's Vision Sensor Product Manager, says the new FH series vision sensor is faster, more efficient and has more features than ever before.
The key features of FH are super high speed image input with 300 FPS (3.3ms), high speed controller with parallel processing using 2 CPU/4 cores, high speed communication by using Ethercat, One software for easy setup with Omron NJ and Omron Robots, servo and safety.
"The FH series offers outstanding return on investment (ROI) and greater customer satisfaction," Mr Nematian says.
"It can be used in any application where visual inspections are required."
Mr Nematian says the system is widely used in various industries including:
·       Machine tools
·       Robotics
·       Rubber and plastics
·       Conveyors and automated warehouses
·       Food & beverage
·       Packaging
·       Pharmaceutical
·       Automotive
·       Metals
The FH has been used in many applications like missing expire date detections, Optical character recognition (OCR), Label or position of label detection, cap inspection, Liquid level measurement, damaged bottle detection, missing parts/ part recognitions, positioning, measurement and quality inspections of metal sheets.
With an IP65 rating, the FH vision sensor is dust proof and water resistant, making it ideal for hygiene-sensitive food and beverage environments.
The FH vision sensor conducts highly accurate cap inspections to ensure the correct product is processed. It can also be used for traceability to monitor date and time codes as well as for contamination inspection to ensure no contamination has occurred.
The new 12 MPixels (4000x3000pixels) high resolution camera has been released with FH series to ensure higher quality, accuracy and works at high speed with 38.9 frame per second (25.7ms).
Omron has greatly reduced the input time and image transfer time to provide high-speed processing to match the speed of machine applications for high-resolution images.
New shape search III technology makes search algorithms nine times faster than before even for unstable image conditions, including light interference, overlapping shapes, gloss, and incomplete images, stable searching is possible without reducing speed, resulting in an increased stability.
An FH-series Controller provides a faster, multi-line image bus to enable realtime transfer of large amounts of image data for high-resolution cameras or multiple cameras.
Most standard vision sensors are unable to handle parallel processing, which creates unnecessary waiting time. If the machine cycle time cannot be increased, a Controller must be added for each process to perform parallel processing, increasing costs.
With the FH series, four controllers are compressed into one without increasing the line cycle time. You can greatly reduce costs for processes that involve many lines.
Also, the FH Controllers contain special setup displays for the stages and robots that are commonly used on FA sites. You just fill in the settings to easily output axis travel amounts for stages and robots.
Omron's innovative Sysmac Studio automation software supports the FH series, allowing multiple devices to be integrated easily by using EtherCAT connectivity.
FH controller can easily connect to the FH-MT12 Touch Panel Monitor is equipped with a 12.1-inch screen and IP65. that is ideal for replacement of existing models. You can adjust all the settings by touching the screen.
Key features of FH-MT12 industrial touch screen:
·       User can use Touch Pen (Stylus) for precise touch
·       Easy integration – plug & play. No driver installation is required
·       High resolution 1024 x 768 in 12.1
·       Long Lifespan + Energy Saving (LED backlight helps to save power and achieve long life span up to 100,000 hours)
"With an ever changing manufacturing environment, Omron's series of vision systems are perfect for manufacturers who are striving to meet these changing needs," said Mr Nematian.
"Omron has worked closely with many engineers and vision integrators to install and maintain vision systems in plants across Australia and New Zealand."
Each year the company invests nearly $500 million globally on R&D and boasts an extensive network of sales distribution and integration partners to service and support its vast product range.
"When dealing with Omron you are dealing with a national company with a broad partner base but also a company with sales and trained engineers globally," said Mr Nematian.
Contact the team at Omron to demonstrate how the new vision sensors can improve your production lines.
Omron Electronics
Ph: 1300 766 766