LATEST INNOVATION ON SHOW AT CeMAT AUSTRALIA 2016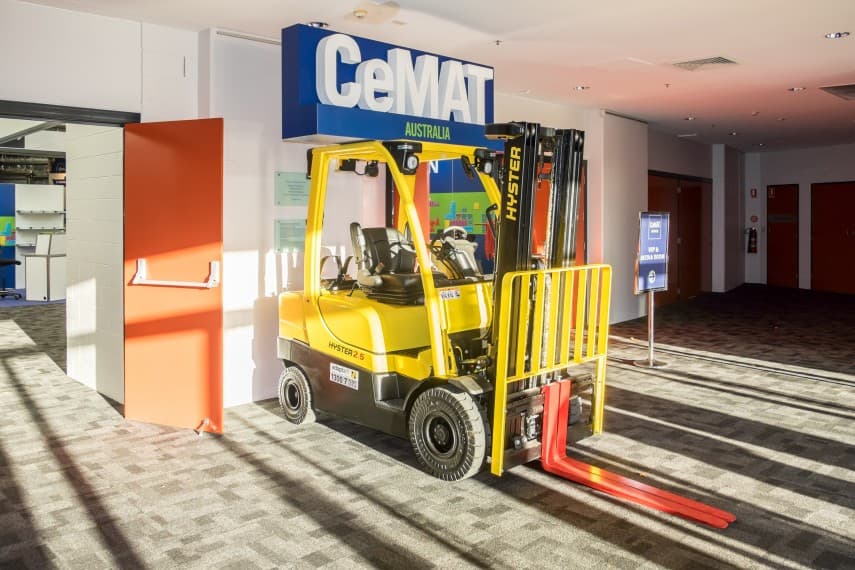 The who's who of the intralogistics and materials handling industry will gather for CeMAT Australia 2016.
To be held at Melbourne Convention and Exhibition Centre from July 12-14, CeMAT Australia will be the meeting place for the leading technology and services in the materials handling and warehousing industry. 
Top industry names including Dematic, Vanderlande, Beaumer, SSI Schaefer and CHEP will exhibit their latest innovations, shaping the industry now and in the future.
International exhibitors from Europe, USA and China will also exhibit at CeMAT Australia. Loadhog (UK's multi award-winning packaging innovator), Manhattan Associates (a US-based provider of advanced, omni-channel chain software to a number of clients in the logistics industry), and CGP Coating Innovation (a French company that provides specialist coatings, anti-slip sheets and protective packaging for pallets) will share their effective industry methods, which are proving successful in their local and international markets.
Following on from the successful inaugural show in 2015, CeMAT Australia 2016 will have a focus on attendee experience as well as innovation and technology, says Sarah Haughey, Show Director of CeMAT.
"Education, innovation and interactivity are key themes for the show this year. All our exhibitors are embracing this to ensure visitors have an enjoyable experience that offers tangible benefits to their business operations," says Ms. Haughey.
Exhibitors are fully embracing the call to be innovative, with Adaptalift Hyster, which provide forklift solutions, preparing to showcase its ForkTrack fleet management system via an interactive demo area.  
Participants will be able to see and understand the industry's leading fleet management and safety features of ForkTrack and how it can be a positive addition to any business, says Nathan McKenzie, CEO of Speedshield Technologies, which is a partner of the Adaptalift Group.
"Our stand will be transformed into an interactive zone that will allow CeMAT visitors to experience ForkTrack for themselves, as if they were operating the equipment on site.
"They'll be able to have a hands on experience to understand how the ForkTrack features could benefit their business," says Mr McKenzie.
Marcus Rose, Sales Manager of Custom Automation, a privately owned Australian company specialising in the design and integration of automated material handling systems is looking forward to the show to meet punters interested in his solution offering.
"The interactive nature of our stand is designed to engage visitors, while educating them on what it is we do and how we can help them. CeMAT 2016 is set to be our best yet," said Mr Rose.
The industry will also be demonstrating how they can work together collaboratively. For the first time in Australia, Swisslog will be co-exhibiting with parent company KUKA, a leading manufacturer of robotic systems. As a leading supplier of industrial robots and automated production systems, KUKA is actively participating in what is commonly known as Industry 4.0 – the next generation of materials handling and intralogistics, which will see the increasing digitisation of processes and greater collaboration between humans and machines.
Francis Meier, Managing Director of Swisslog Australia said: "With the launch of these new products and solutions, Swisslog is at the forefront of Industry 4.0, as we continue to develop solutions with connectivity and flexibility in mind.
"In the future, operators will want more control of the businesses they are running and be able to better predict the effect of varying order structures so that resources can be better deployed. Flexibility and agility are key and we are excited to share this potential at CeMAT Australia," said Mr Meier.
CeMAT Australia is not just about seeing the latest equipment, it's also about embracing the opportunity to meet with clients, partners and the wider industry, like Daifuku, the largest material handling supplier in the world.
Brad Jackson, Chief Operating Officer at Daifuku said that CeMAT is important for us this year as we have been involved with a number of organisations over the last 12 months, who see the value of what Daifuku can bring to their business.
"We have technology unique to us that offers value in many areas and we intend to use CeMAT as a tool to promote our technology to more than our existing clients and partners," said Mr Jackson.
This year's show will also include an Industry Leaders Drinks Reception on Tuesday July 12 on the exhibition floor.
The invitation-only event will bring together exhibitors, VIPs and speakers for networking over drinks and canapés, whilst also enjoying live music to conclude a successful first day. CeMAT will announce a leading keynote speaker for the evening in the coming weeks, which organisers say will not disappoint.
In addition to innovation and interactivity the show will also have an education stream. The Knowledge Theatre has been created to provide an open platform on the show floor for industry leaders from a range of markets and sectors to give insight through case study driven presentations.
With up to 30 presentations, attendees will gain priceless insights into how companies have overcome common problems, implemented leading solutions and how the sector is moving into the future.
For more information, to exhibit or to register to attend visit: www.cemat.com.au
CeMAT AUSTRALIA 2016
When: July 12-14
Where: Melbourne Convention & Exhibition Centre
South Wharf, Melbourne
Contact: Hannover Fairs Australia Pty Ltd
Ph: 02 9280 3400