Latest from Gates on show at AIMEX
31-08-2010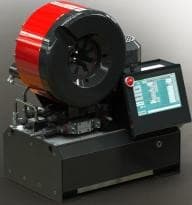 Gates Australia will offer visitors to this year's AIMEX mining show in Sydney an impressive display of its latest industrial belts, hydraulic and industrial hoses designed to keep your operation running efficiently.
Whether you need to convey materials or move equipment, Gates can provide the application, whether the project is large or small.
Products on display include:
Hydraulics Hose & Fittings Assemblies
The Gates MegaSys hydraulics hose system is ideal for mining applications.
It is FRAS & MSHA approved, with constant pressures ranges up to 550 BAR (8000 PSI), and colour coded laylines for easier and safer identification. MegaSys comprises both spiral-wire and braid-wire hose assemblies designed and tested to 1 million and 600,000 impulse cycles respectively, 2-3 times more than the SAE 100R requirement.
Hydraulic System Safety
Gates Lifeguard sleeve offers a true line of sight protection against hose failure helping to protect people and the environment. Equipment operators working within a metre line-of-sight of a hydraulic system know the potential for problems - personal injury, fluid burns and injection, fires and explosions, electrical shock and mechanical failure. The double or triple layer of Lifeguard sleeve effectively shields you against these hazards.
New Innovative Crimping Machine
The new 2" Gates crimping machine, the innovative GC32-TSi, will be unveiled and demonstrated at Aimex. 
The new crimper has many unique features including an indexing head that slightly rotates on every crimp, ensuring a consistent application of grease; prolonging the life and accuracy of the crimper and increasing the maintenance intervals. 
Gates Comprehensive Power Transmission Belts
Gates offers more types of belts than ever before. This broad choice of products allows you to select the belt that provides the best performance and the best value on your mining equipment. Gates synchronous belt drives are the ideal replacement for roller chain drives. They offer similar performance capabilities while reducing weight, mess and maintenance, while lasting up to three times longer. Gates industrial V-belts are constructed with high-tech materials such as EPDM, and are designed to withstand today's demanding applications, outperforming and outlasting competitive products.
The use of Gates energy efficient belt drive systems on your processing equipment contributes to the prevention of downtime and increases production.
Gates has over 100 years of experience designing, engineering and manufacturing belts and industrial hose and hydraulic solutions.
Visit Gates at Stand H1088 at AIMEX at the Sydney Showground from August 20-23.