LATEST FMB CNC BANDSAW A CUT ABOVE
18-09-2015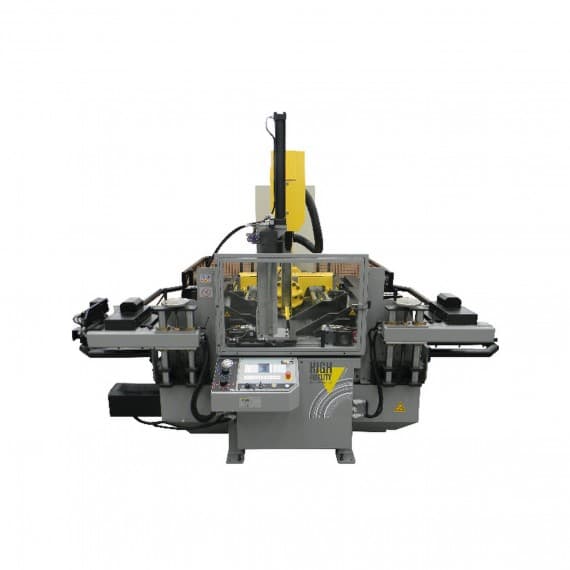 Queensland based Whitelaw Engineering Machinery has released the latest model Scorpio CNC Vertical Automatic Bandsaw from Europe's leading manufacturer of bandsaws – FMB.
The Scorpio offers a range of unique features through its innovative approach to sawing and material flow.
With a large cutting capacity of 25" x 20" (635 x 510mm) and a vertical tilt head that tilts up to 60º left and right and with a saw head that is on a 3º slant, the FMB Scorpio delivers the fastest cut available in a machine of this type.
"The Scorpio CNC is an exciting development in sawing and material handling allowing the complete optimisation of material," said Whitelaw Engineering General Manager Dimitri Zouppas. "Due to the encoder measuring system coupled with the automatic feed and mitre during the cutting cycle, the machine is unique in respect to operational speed and minimal material waste,' he said.
The Scorpio machine comes standard with vertical clamping and can handle multiple types of material such as flat bar, square, rectangular section, tube/pipe, channel and beams.
The large 34mm wide rigid blade ensures a straight cut and blade life is extended by an efficient mist spray coolant system that also maintains a clean work area.
Cutting capacity of the machine at 0º is 510mm for Round and Square and 635 x 510mm for Rectangular section.
The unlimited material feed uses rollers driven by a brushless motor ensuring optimum efficiency at low revs and a fly encoder roller provides accurate measurement of the material as it feeds. The material is automatically exchanged from the left to the right side of the machine in order to cut the end piece of the material.
Clamping is achieved via a double vice controlled by a hydraulic cylinder with fixed jaws enabling fast easy loading.
Easy operator programming and control is achieved via a 7" colour LCD digital control touch panel with full graphic functions and an auto diagnostic function with display alarms. There are up to 100 different programs with 100 steps for each program with easy software upgrades via a USB port. The innovative and advanced FMB Scorpio offers reduced cycle times as a result of the automated material setup and can perform single cuts in semi-automatic mode.
Whitelaw Engineering Machinery, the agent for FMB in Australia and NZ for more than 25 years, has a Scorpio machine available in stock for demonstration.
Whitelaw Engineering Machinery
Ph: 07 3219 4000