Latest FAST solution for recycling and water quality compliance in remote and regional Australia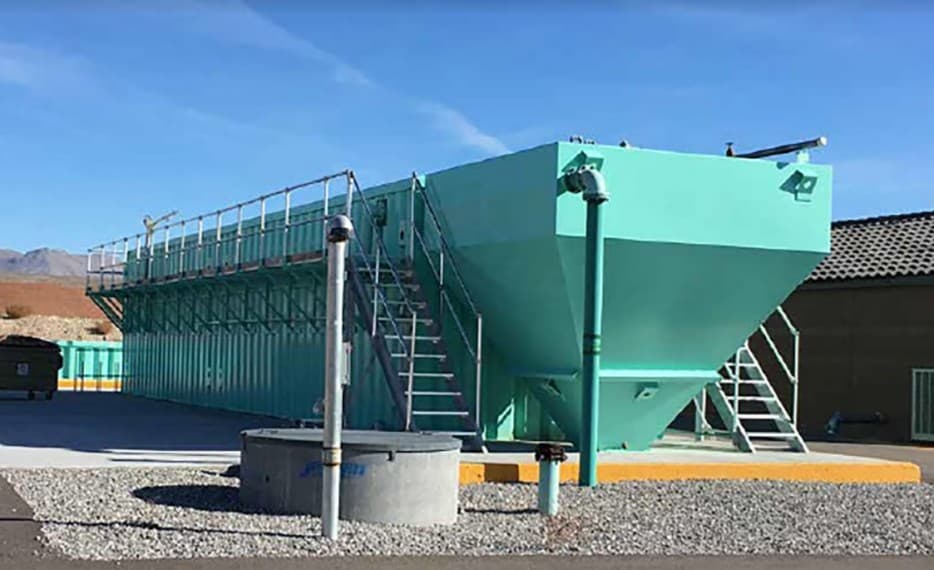 The latest Smith and Loveless FAST water quality and recycling solution is being introduced to Australia by CST Wastewater Solutions to manage groundwater impacts and comply with increasingly stringent sustainability requirements for developments in remote areas.
The easily installed FAST (Fixed Activated Sludge Treatment) system – featured at the global WEFTECH 21 exhibition in Chicago – produces an Australian effluent water quality from Class C to Class A, which means the water produced by large remote mining, oil and gas, tourism, education, commercial and industrial communities, for example, can be recycled for processes around the site.
The latest FAST systems presented at WEFTECH 21, available in flow capacities of 24-4000 cubic metres a day, are the most recent developments of a technology proven throughout Australia in major mining operations, smaller municipal councils, schools, tourist facilities, commercial developers and private industry.
CST Wastewater Solutions Managing Director Mr Michael Bambridge said the systems are ideal for public and private organisations seeking to optimise their achievement of high water quality standards within a high-efficiency, low-maintenance system that accommodates shock loads, variable flows and seasonal operations. 
FAST achieves outstanding biological nutrient removal (BNR) for applications containing high levels of nitrogen, the water pollutant that has increased significantly in Australian industrial, commercial and municipal applications and which is an environmental concern for organisations in diverse sectors.
Complete, easily operated system
The plant arrives on-site essentially as a plug and play system requiring only a concrete pad and some relatively minor mechanical and electrical works. Class A effluent is achieved by the addition of a filter and UV sterilisation after the FAST system, said Mr Bambridge. The latest versions of the fixed biofilm process, with enhanced nutrient removal, achieve Biological Nutrient Removal (BOD and TSS) down to 10mgl, total nitrogen (TN) removal to 8mg, and ammonia (NH3) and total phosphorous (TP) removal down to 1mg/l.
Proven in thousands of installations worldwide, FAST consists of tankage packed with completely submerged media. The FAST media creates a high surface area-to-volume ratio, which, combined with internal settling zones, maintains constant bacterial growth during low-flow and peak usage periods typical of many remote installations. This results in stable operation on a daily basis.
"Simple operation and maintenance mean no daily operator requirements and very little annual plant maintenance," said Mr Bambridge, whose company's installations of the FAST system have been proven in Australian applications including Alcoa, BHP-Billiton, South 32, Tahmoor Colliery, Cadia Gold, Anglo American and many more in the mining industry. Further installations have been completed for the Central Coast Grammar School, CSIRO, Hunter District Water Kiama Municipal Council, Lakeside Leisure Park and Berowra Waters Marina.
The solution delivers robust and reliable performance, in terms of the process. The fixed media through which the wastewater circulates provides a high surface area-to-volume ratio, protecting against hydraulic shock loads.
The QUCKSMART PLC touchscreen controls available on the latest FAST systems provide outstanding ability to monitor and adjust treatment system functions with a highly intuitive, easy-to-navigate touchscreen PLC interface. Cloud-based RemoteView motorising services are available.
FAST system features and benefits include:
modular design & construction
low sludge production
no moving parts, except for an air blower that provides oxygen while circulating the liquid
longer sludge age than typical biological systems, increasing water quality efficiency.
"The FAST system is the perfect solution for remote projects because it can be built into standard shipping containers," said Mr Bambridge. "The modular format of the FAST System also allows an easy bolt-on for any expansion in workforce.
"For any future proposed increase of workers, it is a simple matter of adding another FAST 20 foot Module. This could be incorporated in the design," he said.
Not only does the system achieve higher loading rates within a smaller footprint, but effluent produced can be recycled into suitable industrial, public facility and commercial re-use processes.
"The FAST system in mining projects allows the ecologically responsible operator to reuse the effluent water for dust suppression and lubrication water, for example, which helps with their environmental footprint," said Mr Bambridge.
 "The FAST System has been proven in Australasia and globally as being a very robust and simple system to operate. It is very reliable because its stable process withstands hydraulic shocks and the bacteria involved are not washed out. It is simple to operate and requires no daily operator maintenance, which results in low annual maintenance costs. Low maintenance is a great advantage in that the need for costly and often distant engineering support is radically curtailed."