LASERS BOOM IN QUEENSLAND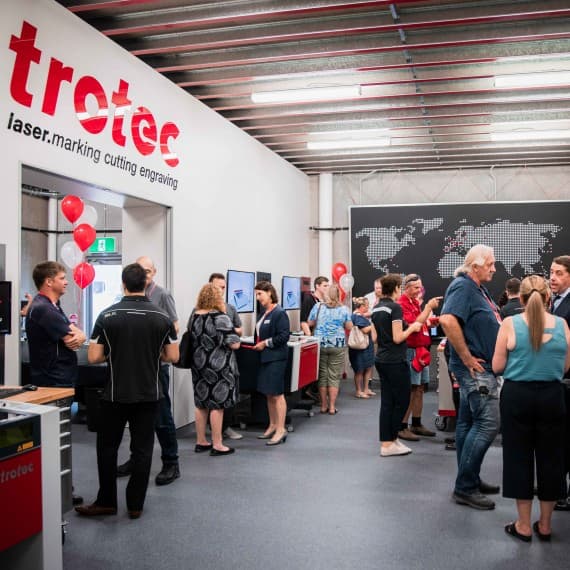 Business is booming Australia-wide for Austrian laser specialist Trotec Laser, and the company's Queensland operation has just moved into larger premises.
Trotec only arrived in Australia in 2008, and set up its first Queensland office in 2012 in Meadowbrook. The move to a new laser showroom and demonstration facility in Loganholme will provide increased warehouse capacity and facilities to reinforce the growing Queensland sales and service operations.
The new 550m2 facility includes two air-conditioned machine showrooms, one of which is dedicated to the industrial sector, a laser inspiration room showcasing the latest materials, samples and manufacturing techniques, training facilities and space for additional staff to join the business as it grows.
The new facility was opened last month by Dr Norbert Schrüfer, CEO of the Trodat Trotec Group, Trotec Laser MD Simon Moore, Queensland Minister for State Development, Manufacturing, Infrastructure and Planning, Cameron Dick MP, and Melissa McMahon MP, State Member for Macalister.
"We are very excited about our new south-east Queensland facility. Not only does it have a larger warehouse and office space to enable us to offer an unparalleled customer experience, it's also home to the most advanced laser demonstration and training facility in Australia," said Reece Moore.
Minister Dick welcomed the new facility to Logan, saying the expansion would lead to more local employment opportunities.
"Queensland is proud to be a manufacturing state, and it's growth like this that highlights the signicant level of confidence we're currently seeing in the local sector," said Dick. "I thank Trotec Laser for continuing to choose Logan, for creating more jobs, and for pushing a new and exciting agenda when it comes to advanced manufacturing."
Trotec Laser
1300 876 832
www.troteclaser.com.au