LASER TRACKERS BREAKTHROUGH IN 3D MEASUREMENT PRODUCTIVITY
17-08-2017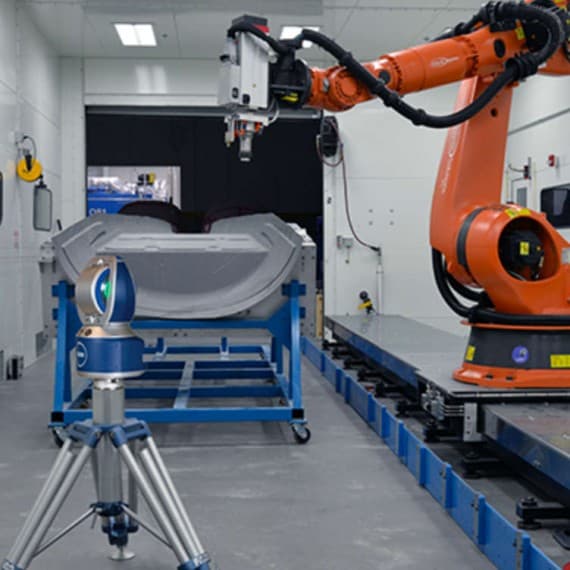 The latest generation of laser trackers from 3D measurement specialist FARO are claimed to set a new price/performance standards for large-scale metrology. The high-performance FARO Vantage family are well suited to applications in assembly alignment, part and assembly inspection, machine installation and alignment, and reverse engineering.
There are two distinct models, the VantageE with an operating range of 25m and the VantageS with an operating range of 80m. Both models are fully self-contained, incorporating hot-swap batteries and industrial-grade Wi-Fi. This means they are easily portable both between job sites and within the factory by a single user.
The Vantage uses the all-new FARO RemoteControls system for advanced control using a mobile phone or tablet. The mobile device not only controls the movements of the laser tracker but also incorporates live video feed from targeting cameras so that a single operator can control the tracker from anywhere in the measurement area.
It also includes novel workflow management features such as remote accuracy checks and programmable remote warm-up so the user can schedule the device to turn on in advance and make it ready for immediate operation.
FARO RemoteControls has been designed to be easy to learn and use to maximise productivity. It also includes advanced productivity enhancing functionality, such as the ability for the laser beam to be automatically re-established with a simple set of gestures, indoors or outdoors, with no need to manually reacquire the target.
Both VantageS and VantageE fully support FARO's patented Super 6DoF TrackArm, which enables a Vantage Tracker to work with one or more FARO ScanArms, to create an integrated 3D measurement solution across a single coordinate system. Super 6DoF eliminates line-of sight challenges and greatly increases the measurement range while maintaining high accuracy.
According to FARO President and CEO Simon Raab: "The new Vantage laser tracker series provides a combination of innovation in usability along with value driven pricing that sets a new, highly accessible price/performance standard for laser trackers in large-scale precision measurement. We are confident that the breakthroughs offered in the FARO Vantage platform will make it the go-to option for a variety of demanding factory metrology applications."
FARO Technologies
07 3029 6000
www.faro.com