LASER SCANNERS 'CAPTURE' THE MARKET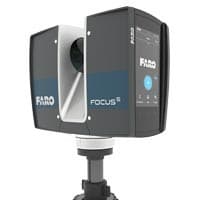 Fast and exact indoor and outdoor measurements in three dimensions: Simply at your fingertips.
Faro's latest laser scanner enables the user to capture fast, straightforward and accurate measurements of complex objects and buildings.
The FocusS 150 and 350 is a lightweight and portable scanner, equipped with an intuitive touch-screen that has been increased in size and clarity from previous models. A built-in 8Mpixel, HDR-camera captures detailed imagery easily while providing a natural colour overlay to the scan data, even in extreme lighting conditions.
The FocusS 350 offers an extra long range of 350m, while the FocusS 150 is a mid-range device offering precise scanning up to 150m. With their sealed design, both models are certified via the industry standard Ingress Protection (IP) Rating, and classified in Class 54 for environmental protection.
The devices are built to safeguard against intrusions such as dirt, dust, fog and rain as well as other outdoor elements which typically occur in challenging scanning conditions. Additionally, the two laser scanners offer a future-proof interface to connect accessories to the scanner.
For short-range applications, the new FocusM 70 Laser Scanner captures data up to 70m, and is therefore ideal for indoor measurements and small area applications.
The FocusM 70 sets a high standard in price/performance for construction BIM/CIM, and public safety-forensics applications, and is the first professional grade scanner to be offered at an affordable price that does not compromise industrial grade performance.
Key features include an Ingress Protection (IP) Rating of 54 for use in high particulate and wet weather conditions, HDR imaging, acquisition speed of almost 500,000 points per second, distance accuracy up to ±1mm, and extended temperature range. Each device features a 4.5-hour battery runtime per charge.
FARO
www.faro.com