Published 15-04-2021
| Article appears in April 2021 Issue
Larger 303SS air conveyor converts standard pipe to convey in corrosive environments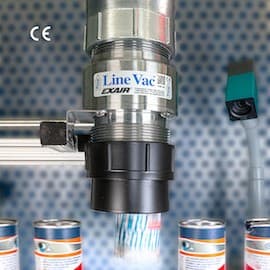 EXAIR's new Type 303 Stainless Steel 3" (76mm) NPT Threaded Line Vac Air Operated Conveyors convert ordinary pipe into a powerful conveying system for parts, scrap, trim and other bulk materials.
Able to operate seamlessly at higher temperatures, this chemical and corrosion resistant Line Vac is  a long-lasting, low maintenance solution suitable for food, chemical, pharmaceutical and medical processes.
Robustly constructed, the Threaded Line Vac's larger inside diameter, enables bigger parts and larger volumes of material to be conveyed over long distances with ease.
It is also designed for simple attachment to standard plumbing pipe couplers, to take advantage of readily available pipes and fittings.
Threaded Line Vac Conveyors use minimal amounts of compressed air to generate an instant, powerful vacuum on one end, with high output flows on the other.
Regulating the compressed air pressure also provides a fine-tuned control of the conveyance rate, making it suitable for a wide range of applications, such as scrap trim removal, material conveying, part transfer, fiber tensioning and filling operations.
3" NPT 303SS Threaded Line Vacs are CE compliant and meet all OSHA pressure requirements. Ranging from 3/8" (10mm) NPT through 3" (76mm) NPT, all Threaded Line Vac models are also available in type 316 stainless steel to serve in exceptionally demanding corrosive, high temperature or hygienic environments.
They are available from Compressed Air Australia.
Visit www.caasafety.com.au to explore the large variety of Air Operated Conveyors including Light Duty, Standard, Threaded, Heavy Duty and Sanitary Flange.