Published 23-03-2021
| Article appears in April 2021 Issue
LAPP's cable gland range keeps food and beverage facilities germ free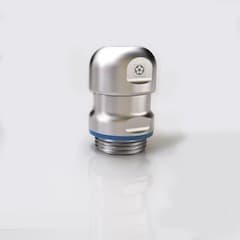 Skintop Hygienic cable gland
Covid-19 made us all far more aware of the importance of hygiene in our lives, including in food and beverage applications. With this in mind, a Stuttgart-based company whose founder, Oskar Lapp, would have celebrated his 100th birthday tomorrow (March 20), has created a cable gland range designed for reliable, germ-free performance.
The Skintop Hygienic range from integrated cable and connection solutions leader LAPP has been specifically designed to meet the most stringent global requirements of hygienic design, including following the general design principles of DIN EN 1672-2 in Germany, and compliance with Ecolab in America as well as EHEDG in Europe.
LAPP Australia holds strong stock locally of the Skintop Hygienic range, which is made from stainless steel, and is suitable for direct contact with foodstuffs in production.
"All Skintop cable glands have a smooth, rounded shape, with no corners or angles where bacteria or micro-organisms might be able to settle and accumulate," says LAPP Australia general manager Simon Pullinger.
"Additionally, the cable glands are comprised of stainless steel class V4A, which guarantees long-term resistance to demanding ambient conditions. All sealing materials are also food safe. A special elastomer is used on the Skintop range's seals, which provides extremely high strain relief on the cable," he says.
"Food and beverage manufacturers have always had a strong focus on hygiene, but the prevalence of Covid has shone an even stronger spotlight on the need to be meticulous when it comes to hygiene practices. LAPP's Skintop Hygienic range meets and exceeds any standard around the world, as well as being designed to last in service."
"And Skintop's Ecolab certification demonstrates the range's durability against widely used cleaning agents, ensuring that washdown and cleaning procedures will not impact the product's integrity and hygiene standards."
Skintop Hygienic is part of a broader range of quality LAPP cables, connectors and accessories, and joins more than 20,000 products available online 24/7 from LAPP's core brands, including: Olflex connecting and control cables, Skintop cable glands, Etherline Ethernet cables, Unitronic data cables, Epic connectors, Silvyn robust cable protection and supply systems, Hitronic super-fast fibre-optic cables and Flexmark cable marking systems.
On Monday, Industry Update will honour the life of Mr Lapp, one of the true innovators of cable, and connector and automation-enabling technology. His legacy and foresight towards the needs of Industry 4.0 lives on in LAPP's global family of companies, including LAPP Australia, which is going from strength to strength.