| Article appears in February 2020 Issue
LAPP FAMILY VALUES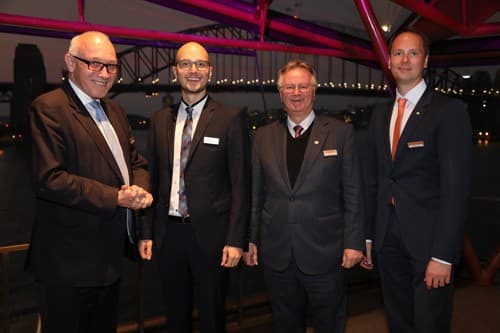 In November 2019, three members of the entrepreneurial family Lapp arrived in Sydney to celebrate the success of the company's Australian operation.
Andreas Lapp (Chairman of the Board of Lapp Holding) and his nephews Matthias Lapp (Chief Executive Officer LA EMEA) and Alexander Lapp (Global Manager Digital & eBusiness) were in the harbour city to visit Lapp Australia and to host a gala event for customers and staff at the Sydney Opera House.
Industry Update took the opportunity to interview the three family members to try to gain some insight into the workings of Lapp and how a German family owned company views the Australian market.
IU: Can we start by looking at the family business model? Why is it that there are so many major German corporations still in family hands?
Andreas: I think it is very much to do with European culture. But also to do with our tax laws.
Especially in central Europe, there is the tradition to stay in the same area and even in the same house for generations. So if you start something good, it is for the next generation. You know you don't own it and it is for the next generation to develop.
This isn't just with businesses… its with houses, properties … everything. It is tradition.
Alexander: Also – and this is not unique to our family – but we think the family members are assets, not liabilities for the company.
We are not only a family business, but also a business family.
IU: So this is part of the family values that you apply to the business, and that you have brought to Australia?
Andreas: For us, Australia and New Zealand are countries in Asia-Pacific that carry our values.
IU: One area where we tend to feel that Europe leads Australia is in environmental matters. Where is Lapp in this equation?
Andreas: Lapp in Germany is CO2 neutral. Other companies like Siemens and Bosch want to be in the near future. We are already.
For my father and founder of the company, Oscar Lapp, this was not just an environmental issue, but also a commercial one – to save money.
For example, the waste heat from the cable-making process is used for heating the building during winter.
And for both heating and cooling of our headquarters building we have geothermal energy.
We have the biggest solar farm in Stuttgart on the roof of our logistics building.
And this was also not just environmental as we manufacture the cables for the panels and we wanted to see how they work.
It's interesting because we have to give a warranty to our customers of anything up to 25 years. And at that time there was no solar product that had been in use for more than five years.
So how can you give 25 years? That's why we had to test it ourselves.
Alexander: And we have a range of products that use 30% recycled materials in the plastics for our cables and connectors.
For us, environment and family are the same thing.
But environmental matters will become even more important.
In the future, customers will not just check that you have ethical standards, for example not abusing the workforce, the importance of the environmental aspects of our products will increase.
And we are ready for this.
Matthias: We can also produce our Skintop cable glands from recycled fishing nets.
IU: Is this collective attitude across Germany?
Andreas: I would say that all of Europe is more aware than other areas of the world.
I know we can do a lot to mitigate climate change. And the good thing is that we as a company are involved in this.
Renewable energy is a big area for us. And electric mobility.
IU: That brings us to research and development. What is the next big thing?
Andreas: Not high voltage but medium and low voltages…. What happens to cables when you use DC rather than AC? [as in server farms] You need different cables.
So now we have tested and we can say to our customers that for this type of application (say a server farm) where you use DC if you use this particular cable you are safer.
IU: And what about your staff? Do you suffer from skills shortages?
Andreas: We don't just need engineers to design things. In our factories and even in the warehouses we need very well educated people. So we have apprentices.
There is an issue with demographics. In Central Europe we can easily find well educated people. But in the rest of the world, we train them ourselves.
To support this we have set up centres of excellence in cable technology in institutions that suit us. [at polytechnic level]
Matthias: For our apprentices, we take them from school. And we have a very healthy application ratio. For 25 places we have something like 1200-1300 applicants.
There will be easily 2000 applicants to join the scheme next year.
Alexander: We have many colleagues that started as apprentices and have been with the company for 20 years or more.
IU: With Germany's growing population, has the balance changed?
Andreas: When I did it 35 years back there were only two in the intake who were not of German origin. Today it is almost opposite: the majority do not have a German background.
In fact we think that Stuttgart is one of the most multicultural cities in the world.
We have 195 nations living in Stuttgart – that's more than New York!
IU: That's something you share with Australia then.
Andreas: As I said before Australia and New Zealand are certainly the countries in Asia that share our values.
And more so. I think the attitude of the Australians is very much welcomed in Europe and in Germany in particular. The image of Australia is excellent.
IU: Thank you gentlemen.